Handmade Amazonite Pendant: Exquisite 92.5 Sterling Silver Jewelry
Introducing our exquisite Amazonite pendant, a true masterpiece handcrafted with care and set in luxurious 92.5 sterling silver. This captivating piece stands out with its striking combination of elegance and natural beauty. Each pendant is meticulously crafted by skilled artisans, ensuring a flawless finish and unparalleled quality. The alluring Amazonite gemstone, known for its calming and soothing energies, adds an extra touch of tranquility to any outfit. With its timeless design and durable construction, this pendant is a versatile accessory that effortlessly elevates any look. Trust in its authenticity and let this Amazonite pendant become your go-to accessory, offering you not only style but also a sense of serenity wherever you go.
Introducing our exquisite Amazonite pendant, gracefully handcrafted and set in 92.5 sterling silver. Prepare to embark on a journey of elegance and charm as we unravel the mesmerizing details and unparalleled beauty of this exceptional piece. Imagine adorning your neckline with the ethereal hues of Amazonite, a gemstone known for its soothing and calming properties. This unique pendant showcases the captivating allure of nature's artistry, as each stone possesses distinct color variations. With its enchanting mix of serene blues and soothing greens, no two pendants are alike, making yours truly one-of-a-kind. Indulge in the divine craftsmanship of this handcrafted masterpiece. Our skilled artisans delicately set each Amazonite gemstone within the lustrous embrace of 92.5 sterling silver – a timeless metal renowned for its durability and luxurious brilliance. The result is a harmonious fusion of nature's beauty and human artistry, creating a pendant that is not only visually striking but also built to withstand the test of time. Unveiling a pendant with the power to transmute any outfit into an ensemble of sophistication and allure. The alluring presence of Amazonite brings a touch of serenity to your look, reminding you to find peace amidst the chaos of daily life. As this pendant lies close to your heart, its peaceful energy cascades through your being, fostering a sense of balance and tranquility throughout the day. Let this pendant become your constant companion on life's adventures, as it effortlessly transitions from casual outings to elegant soirées. The simplicity of its design allows for versatility, pairing seamlessly with both bold and understated outfits. Whether you're wearing it with a crisp white shirt, a little black dress, or your favorite bohemian chic ensemble, this pendant effortlessly elevates your style, adding a touch of understated glamour. Enveloped in a captivating narrative of elegance and grace, our Amazonite pendant is not just a beautiful accessory; it is a reflection of your unique style and inner strength. Bring forth your inner goddess as you radiate confidence and poise, knowing that you possess a piece of jewelry that is as extraordinary as you are. Embrace the exclusive essence of our Amazonite pendant, handmade and set in 92.5 sterling silver, and unlock the transformative power of beauty, serenity, and self-expression. Add this unparalleled gemstone pendant to your collection today and witness the remarkable value it brings to your life, both outwardly and within. Bold, breathtaking, and remarkable – this pendant is the epitome of enchantment.
Approximate stone measurements: 19 x 31 mm
Approximate length: 44 mm
Weight: 9.79 grams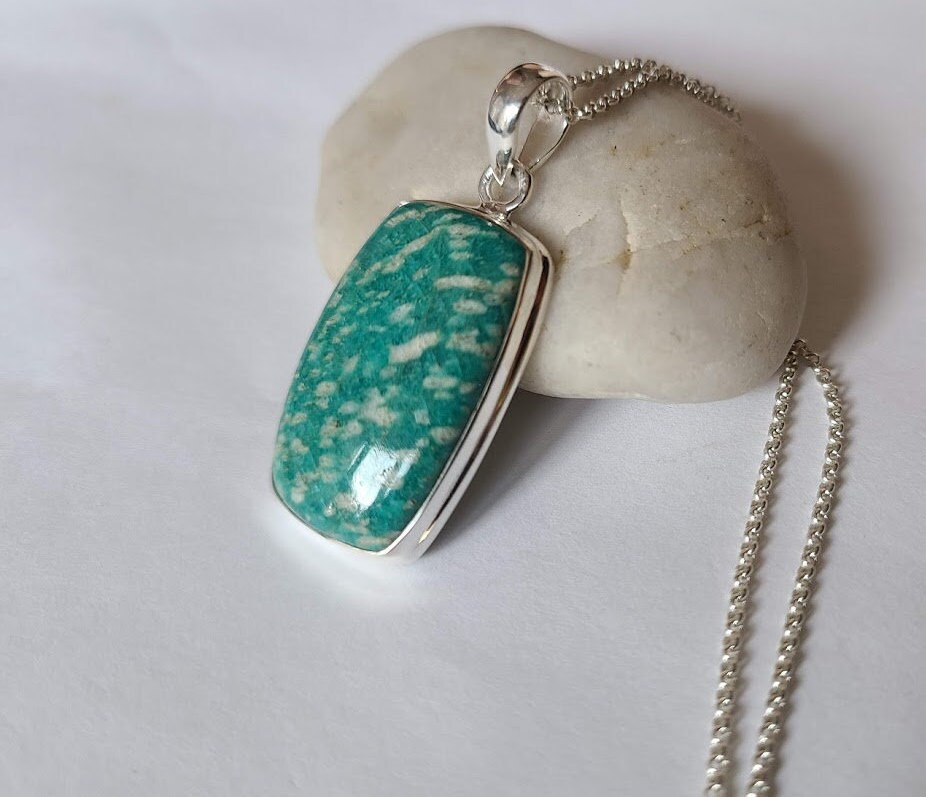 Handmade Amazonite Pendant: Exquisite 92.5 Sterling Silver Jewelry