Handmade Amazonite Pendant: Unique Design in 92.5 Sterling Silver, Exclusive on WordPress
Introducing our exquisite Amazonite pendant, a one-of-a-kind masterpiece meticulously crafted by hand and encased in high-quality 92.5 sterling silver. This captivating piece showcases the natural beauty and vibrant hues of Amazonite, a stunning gemstone renowned for its soothing energy and harmonizing properties. With its unique design and intricate detailing, our pendant effortlessly complements any outfit, making it the perfect addition to your jewelry collection. Experience the elegance and allure of this exceptional piece, guaranteed to draw attention and elevate your style.
Experience the Timeless Elegance of our Handmade Amazonite Pendant
Indulge yourself in the mesmerizing beauty of our unique Amazonite pendant, meticulously handcrafted by skilled artisans. This exquisite piece of jewelry is a stunning fusion of natural Amazonite gemstone and 92.5 sterling silver, elevating your style and adding a touch of sophistication to any outfit.
Unparalleled Craftsmanship
Each pendant is carefully crafted by skilled artisans, ensuring a one-of-a-kind masterpiece that showcases the natural beauty of the Amazonite stone.
The captivating Amazonite gemstone is expertly cut and polished to enhance its vibrant colors and unique patterns, resulting in an eye-catching piece that is bound to turn heads.
Set in the finest 92.5 sterling silver, the pendant exudes a luxurious shine, adding a touch of elegance and timeless glamour.
Unleash Your Style
With its versatile design and exquisite colors, our Amazonite pendant effortlessly complements various fashion styles. Whether you prefer a formal attire, casual ensemble, or bohemian-inspired outfits, this pendant serves as a charming accessory that accentuates your individuality.
Embrace the power of self-expression and showcase your unique style with this captivating pendant that effortlessly adds a touch of sophistication to any look.
A Natural Wonder
The Amazonite gemstone is famous for its soothing and calming properties, believed to dispel negative energy and promote harmony and balance in one's life. Its tranquil hues of blue and green are reminiscent of the enchanting Amazon rainforest, evoking a sense of peace and serenity.
Wearing our Amazonite pendant allows you to carry this natural wonder with you, harnessing its positive energies and embracing a sense of calmness wherever you go.
A Meaningful Gift
Are you searching for a meaningful gift for a loved one? Look no further.
Our Amazonite pendant is a symbol of protection, strength, and harmony. Whether it's a birthday, anniversary, or any special occasion, this unique piece of jewelry makes for a heartfelt and cherished gift that will be treasured for years to come.
Experience the Value
Investing in our Amazonite pendant means embracing elegance, uniqueness, and the highest level of craftsmanship. Here's what this extraordinary piece brings:
Uniqueness: Each pendant is one-of-a-kind, reflecting the individual beauty of the handcrafted Amazonite gemstone.
Vibrant Colors: The captivating combination of blue and green hues evokes a sense of tranquility and natural beauty.
Timeless Design: The pendant's classic design ensures that it remains a stylish accessory for years to come, transcending trends with its eternal charm.
Quality Materials: The Amazonite stone is delicately set in 92.5 sterling silver, renowned for its durability and luxurious shine.
Positive Energy: Harness the calming properties of the Amazonite gemstone, promoting peace, balance, and harmony in your life.
Experience the allure of our handmade Amazonite pendant today and upgrade your jewelry collection with this captivating piece that embodies elegance, uniqueness, and positive energy. Embrace your style and leave a lasting impression wherever you go.
Approximate stone measurements: 29 x 34 mm
Approximate length: 48 mm
Weight about: 11.26 grams
Specification:
Handmade Amazonite Pendant: Unique Design in 92.5 Sterling Silver, Exclusive on WordPress
| | |
| --- | --- |
| SILVER CHAIN OPTION | PENDANT ONLY, 16 INCH CHAIN, 18 INCH CHAIN, 20 INCH CHAIN, 22 INCH CHAIN |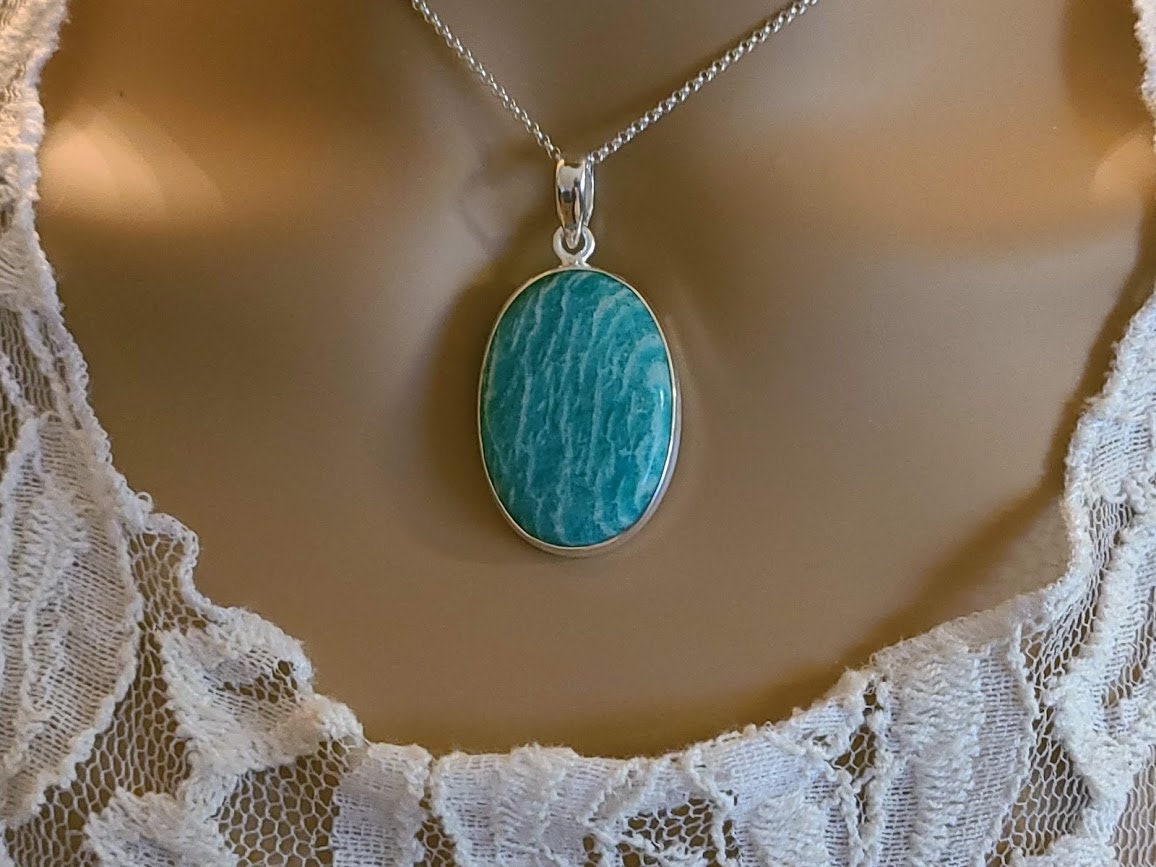 Handmade Amazonite Pendant: Unique Design in 92.5 Sterling Silver, Exclusive on WordPress