Adjustable Length Amethyst Bracelet – Genuine 92.5 Sterling Silver Jewelry
Introducing our exquisite Amethyst bracelet, a stunning accessory crafted with utmost precision. This enchanting piece is not only adorned with stunning amethyst gemstones but also features a unique length adjustment mechanism, allowing it to fit wrists ranging from 7.25 to 8 inches. Made from the finest 92.5 sterling silver, this bracelet showcases exceptional quality, durability, and a captivating shine. Elevate your style with this luxurious and versatile accessory, perfectly blending elegance and comfort. With its eye-catching design and impeccable craftsmanship, our Amethyst bracelet is truly a must-have for those seeking sophistication, versatility, and a touch of luxury. Experience a world of beauty and grace wrapped around your wrist!
Introducing our exquisite Amethyst bracelet, a true epitome of elegance and style! Crafted with utmost precision, this enchanting piece will surely make heads turn wherever you go. Designed to perfection, its length effortlessly adjusts from 7.25 to 8 inches, ensuring a comfortable fit that suits all wrist sizes. Meticulously handcrafted using 92.5 sterling silver, this bracelet exudes a timeless charm that complements any attire, be it casual or formal. The intricate detailing on the silver links adds a touch of sophistication, making this piece a must-have for fashion enthusiasts and connoisseurs alike. What sets our Amethyst bracelet apart is the captivating allure of its main feature – a mesmerizing Amethyst gemstone. Known for its stunning purple hue, Amethyst holds a rich symbolism, signifying clarity, spiritual growth, and protection. Allow this gemstone's energy to envelop your spirit as you adorn yourself with its unparalleled radiance. With its adjustable length, this bracelet seamlessly transitions from day to night, making it a versatile accessory for any occasion. Whether you desire an understated elegance or a statement piece that steals the spotlight, our Amethyst bracelet effortlessly adapts to suit your style. As you don this timeless piece, prepare to embrace a multitude of benefits that go beyond its sheer beauty. Amethyst is believed to promote emotional balance, relieve stress, and enhance clarity of thought. Experience a newfound sense of calmness and inner harmony when you incorporate this breathtaking gemstone into your daily life. Embrace the value that our Amethyst bracelet brings to your jewelry collection. Indulge yourself or delight a loved one with a uniqueness that captivates hearts and stands the test of time. Every glance at your wrist will remind you of the exceptional craftsmanship, the divine elegance, and the enchanting energy that this bracelet encapsulates. Own a piece of harmony, confidence, and timeless beauty with our Amethyst bracelet. It is more than just a piece of jewelry; it is a statement of poise and grace, a symbol of your individuality. Elevate your style and radiate elegance with this captivating masterpiece!
Be the epitome of elegance with our enchanting Amethyst bracelet!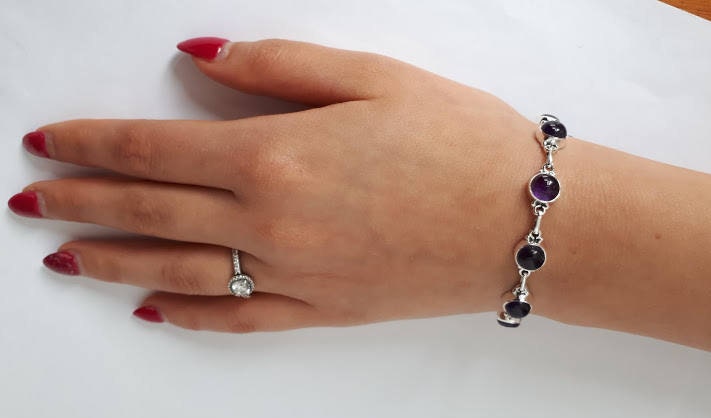 Adjustable Length Amethyst Bracelet – Genuine 92.5 Sterling Silver Jewelry