Stunning Amethyst Teardrop Earrings in 92.5 Sterling Silver – Vibrant Purple Gemstones
These captivating amethyst earrings are a must-have for jewelry lovers. Crafted with precision and expertise, the earrings feature a faceted, teardrop-shaped amethyst stone in a mesmerizing shade of purple. Set in the highest quality 92.5 sterling silver, these earrings exude elegance and sophistication. The faceted amethyst stones catch the light beautifully, adding a touch of sparkle to any ensemble. The teardrop shape adds a unique and feminine flair to the design, making these earrings truly distinctive. Not only are these earrings stunning in appearance, but they also offer exceptional quality. The 92.5 sterling silver ensures durability and longevity, while also providing a hypoallergenic and tarnish-resistant finish. With these earrings, you can effortlessly elevate your style for any occasion. Whether you're going for a casual day look or a glamorous evening ensemble, these amethyst earrings will be the perfect accessory to complement your outfit. Indulge yourself or surprise a loved one with these exquisite amethyst earrings. They are sure to become a cherished piece in any jewelry collection, adding a touch of luxury and sophistication to every wearer.
Introducing our exquisite Amethyst earrings, a true testament to elegance and sophistication. Crafted with utmost precision, these faceted, teardrop-shaped beauties are bound to steal hearts with their mesmerizing purple hue. Set in the finest 92.5 sterling silver, they exude a timeless charm that effortlessly complements any attire. Indulge in the enchanting world of Amethyst, a gemstone renowned for its alluring properties. Let these earrings be a reflection of your refined taste and deep passion for beauty. As the light dances upon their facets, prepare to be bewitched by the sheer brilliance and clarity they possess. With a design that effortlessly transitions from casual to formal settings, these earrings are perfect for every occasion. Their teardrop shape symbolizes grace and femininity, adding an extra touch of allure to your ensemble. Constituting a seamless fusion of traditional craftsmanship and contemporary flair, they strike the perfect balance between classic and modern aesthetics. Besides their undeniable allure, the Amethyst earrings offer a myriad of benefits that go beyond their visual appeal. The healing properties associated with Amethyst include enhancing intuition, promoting emotional balance, and calming the mind. Feel an inexplicable sense of tranquility as you wear these precious gems close to your heart. We value quality above all and have meticulously chosen 92.5 sterling silver to complement the enchanting Amethyst stones. This high-grade silver not only accentuates the natural beauty of the gemstones but also ensures the earrings' durability and longevity. Our Amethyst earrings are not just a beautiful accessory; they are an investment in your style and self-expression. Whether you are treating yourself or gifting a loved one, these earrings are a timeless treasure that will be cherished for years to come. Transform any outfit into a statement of elegance and sophistication with the captivating allure of these Amethyst earrings. As you adorn yourself with these exquisite pieces, be prepared to evoke envy and capture the attention of all who lay their eyes upon them. Let the world witness your impeccable taste and stand out with a touch of regal purple, symbolizing luxury and nobility. Embrace the captivating magic of Amethyst. Shop today and own a pair of extraordinary faceted, teardrop-shaped Amethyst earrings set in 92.5 sterling silver – a truly unmatched masterpiece that embodies the essence of elegance and grace.
Approximate stone measurements: 16 mm x 11 mm
Approximate length: 33 mm
Specification:
Stunning Amethyst Teardrop Earrings in 92.5 Sterling Silver – Vibrant Purple Gemstones
| | |
| --- | --- |
| ear hook options | Wire ear hook, lever backs |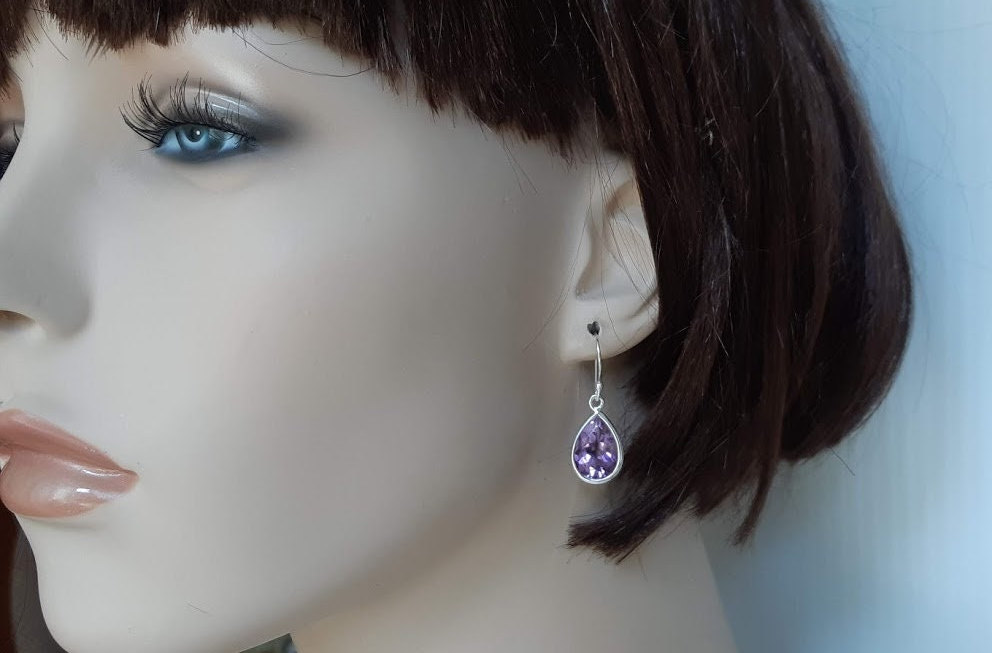 Stunning Amethyst Teardrop Earrings in 92.5 Sterling Silver – Vibrant Purple Gemstones