Exquisite Amethyst Ring, Size 5.5: Faceted Gemstone on 92.5 Sterling Silver – Elegant and Timeless Beauty
Introducing the mesmerizing Amethyst ring, a size 5.5 jewel crafted with precision from a faceted gemstone, delicately set on a stunning 92.5 sterling silver band. This extraordinary piece not only showcases the exquisite beauty of the Amethyst, but also offers a perfect fit for effortless elegance. Boasting superior craftsmanship and timeless allure, the ring instantly enhances any ensemble. The Amethyst's natural charm, coupled with the durability and brilliance of sterling silver, creates an irresistible combination of sophistication and style. Elevate your jewelry collection with this unique, eye-catching treasure – a true embodiment of luxury and refinement.
Note that this is a size 5.5 ring (US/Canadian size) and the actual ring to be shipped.
Solid sterling silver faceted amethyst ring
Stone diameter about 9 mm
Code A2
The Amethyst Ring: A Captivating Gemstone
Indulge in the allure of our exquisite amethyst ring, a true masterpiece that combines elegance with natural beauty. This handcrafted jewel features a faceted gemstone, meticulously set on a 92.5 sterling silver band, creating a captivating accessory that will leave you spellbound.
Unveiling Unmatched Beauty
Our amethyst ring boasts a mesmerizing size 5.5 gemstone, carefully selected for its radiant purple hue that effortlessly captivates the eye. With each facet expertly cut, this enchanting gem reflects sunlight in a myriad of dazzling ways, creating an ever-changing display of ethereal beauty.
Unparalleled Craftsmanship
At the heart of our amethyst ring lies unmatched craftsmanship. Every detail has been thoughtfully considered, ensuring a piece that exudes both quality and refinement. The 92.5 sterling silver band, known for its durability and brilliant shine, flawlessly complements the deep color of the amethyst, enhancing its natural allure.
Benefits Beyond Beauty
Emotional Balance: Amethyst is known for its calming properties, promoting emotional balance and inner peace. By wearing this ring, you carry the soothing energy of amethyst with you, allowing you to navigate life's challenges with serenity.
Connect with Intuition: This enchanting gemstone is believed to enhance intuition and spiritual awareness. By adorning this amethyst ring, you open yourself to a world of heightened perception and insight.
Protection and Healing: Amethyst is revered for its protective qualities, guarding against negative energies and promoting physical and emotional well-being. This ring becomes a personal talisman, shielding you from life's storms and promoting holistic healing.
Indulge in the immersive experience of wearing our amethyst ring, embracing its inherent beauty and embracing the energetic qualities it holds. Each time you slip this captivating jewel onto your finger, you embark on a journey of elegance, enlightenment, and empowerment.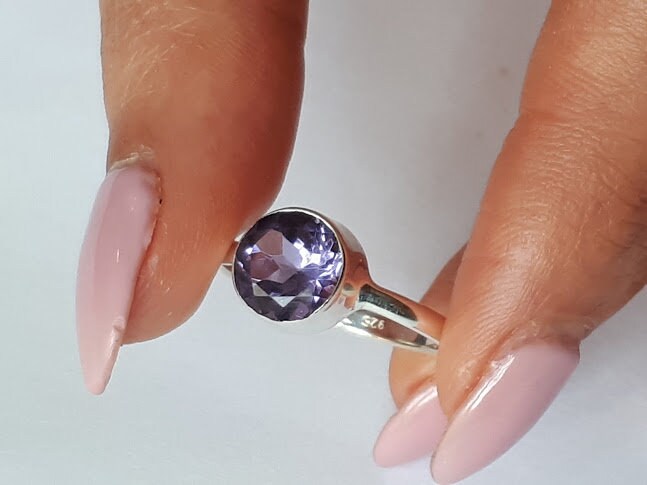 Exquisite Amethyst Ring, Size 5.5: Faceted Gemstone on 92.5 Sterling Silver – Elegant and Timeless Beauty