Shop the Stunning Amethyst Ring in Size 6.25 with Sterling Silver – Limited Edition
Introducing our stunning Amethyst ring in a size 6.25 (US/Canadian) designed with 92.5 sterling silver. This captivating piece not only showcases the mesmerizing beauty of the brilliant Amethyst gemstone but is also crafted with the finest quality sterling silver. Enhancing your style with its unique and distinctive qualities, this ring is a true embodiment of elegance and sophistication. Featuring a perfect fit for convenience, its carefully chosen materials ensure both durability and a timeless appeal. Elevate your jewelry collection with our Amethyst ring, a must-have accessory for those who appreciate exceptional craftsmanship and extraordinary beauty.
Beautiful sterling silver faceted amethyst gemstone ring.
Weight: 4.59 grams
Dimensions: 14 mm X 11 mm
Code: 61
RING SIZE CONVERSION CHART LINK:
http://findmyringsize.com/en/conversiontable.aspx
Note that you can find other charts on google
Introducing our breathtaking Amethyst Ring, a true masterpiece meticulously crafted to adorn your finger with elegance and grace. This enchanting piece of art is delicately set with an exquisite Amethyst gemstone, known for its mesmerizing deep purple hue and its profound spiritual significance. Indulge in the captivating allure of this majestic ring, expertly designed in a size 6.25 (US/Canadian size) to ensure a perfect fit for your finger. The smooth and flawless silhouette highlights the profound beauty of the Amethyst, drawing attention to its ethereal qualities. Our Amethyst Ring is not just a mere accessory; it is a symbol of refinement and sophistication. The sterling silver band, crafted with the utmost precision, complements the brilliance of the gemstone effortlessly. The 92.5 sterling silver guarantees exceptional quality and durability, ensuring that this mesmerizing piece will be treasured for years to come. Allow yourself to be captivated by the radiant allure of the Amethyst gemstone, known for its metaphysical properties. With a legacy dating back centuries, this gem is believed to enhance spiritual awareness, promote tranquility, and inspire a deep connection with the divine. Embark on a journey of self-discovery and embrace the transformative energy that the Amethyst encapsulates. The amethyst gemstone in this ring is carefully handpicked to ensure its intense color and remarkable clarity. Its smooth surface effortlessly reflects light, creating an enchanting play of colors that astounds the senses. The regal purple hues resonate with inner wisdom and promote a sense of balance and harmony. Bold yet refined, our Amethyst Ring seamlessly combines timeless elegance with contemporary allure. Its versatility allows it to effortlessly accompany both casual and formal ensembles, adding a touch of sophistication to any outfit. Whether it's a special occasion or a casual affair, this captivating piece will surely make a lasting impression. Embrace the value of this extraordinary Amethyst Ring, as it not only enhances your personal style but also acts as a talisman, bestowing its wearer with positive energy and spiritual enlightenment. With its timeless beauty and abundant symbolism, this treasure transcends mere material worth, becoming a cherished keepsake. Unleash your individuality and let our Amethyst Ring become a reflection of your unique persona. Its compelling narrative, rich in elegance and spirituality, will capture the hearts and minds of all who lay eyes upon it. Enhance your jewelry collection with this alluring masterpiece, and allow the Amethyst gemstone to weave its magic into your life.
Specification:
Shop the Stunning Amethyst Ring in Size 6.25 with Sterling Silver – Limited Edition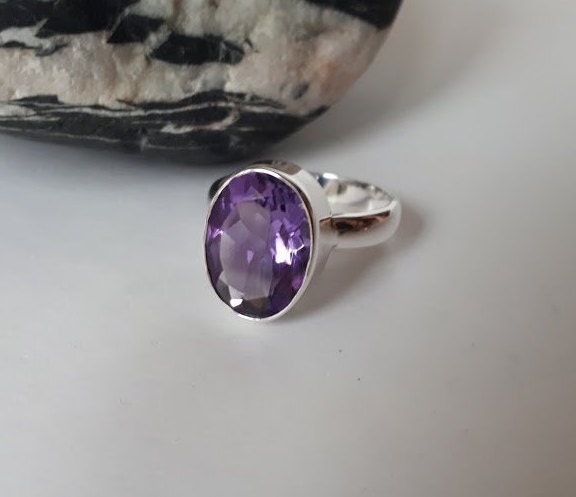 Shop the Stunning Amethyst Ring in Size 6.25 with Sterling Silver – Limited Edition