Chinese Character Black Onyx Pendant – 92.5 Sterling Silver Jewelry
Introducing our stunning WordPress product: the Black Onyx Pendant with Chinese Characters on 92.5 Sterling Silver. This exquisite piece combines elegance and cultural allure, making it a captivating addition to any jewelry collection. Crafted with meticulous attention to detail, the pendant showcases beautifully engraved Chinese characters against a mesmerizing black onyx backdrop. Made from high-quality 92.5 sterling silver, its exceptional durability ensures long-lasting wear. This luxurious pendant effortlessly elevates any outfit, exuding a sense of sophistication and style. With its unique blend of cultural symbolism and impeccable craftsmanship, our Black Onyx Pendant stands as a true testament to refined beauty and timeless elegance.
Introducing our exquisite "Black Onyx Pendant with Chinese Characters on 92.5 Sterling Silver" – a magnificent piece that effortlessly blends elegance, symbolism, and cultural significance into one captivating accessory. This stunning pendant is meticulously crafted with utmost precision, showcasing an enchanting black onyx gemstone that radiates an aura of timeless allure. Nestled within a divine embrace of 92.5 sterling silver, it exudes a sense of sophistication and refinement that transcends traditional jewelry designs. What truly sets this pendant apart are the meticulously etched Chinese characters gracefully adorning the pendant's surface. Each character holds a story, a profound meaning that captivates hearts and deepens the connection with the wearer. Whether it represents love, luck, or wisdom, these characters effortlessly convey the rich cultural heritage of ancient China, serving as a visual testament to the wearer's appreciation for tradition and artistry. Unique in its own right, this piece not only showcases exceptional craftsmanship but also offers benefits that go beyond its aesthetic appeal. The black onyx gemstone, known for its grounding and protective qualities, is believed to absorb negative energies, promoting emotional stability and inner strength. In addition, the 92.5 sterling silver used is renowned for its durability, ensuring that this pendant will withstand the test of time, both physically and symbolically. Imagine adorning this remarkable pendant, feeling its weight gently rest against your chest, as the intricate Chinese characters serve as a constant reminder of your unique journey and innermost desires. Be it an evening soirée or a casual gathering, this pendant effortlessly elevates any outfit, becoming a focal point of admiration and conversation. Its allure transcends cultural boundaries, giving you a personal touch that sparks curiosity and ignites intriguing conversations. Indulge in the timeless allure of our "Black Onyx Pendant with Chinese Characters on 92.5 Sterling Silver" and experience the harmonious blend of art, culture, and personal expression. With its exceptional craftsmanship, profound meaning, and enduring elegance, this pendant truly embodies the value of a treasured heirloom, worthy of being passed down through generations. Take a leap into the world where beauty meets symbolism, where tradition intertwines with modernity, and where elegance becomes a statement. Embrace the captivating energy of this pendant and let it become a reflection of your unique journey, heritage, and aspiration, forever etching your story into the fabric of time.
Diameter with silver about 19 mm
Total length about 27 mm
Specification:
Chinese Character Black Onyx Pendant – 92.5 Sterling Silver Jewelry
| | |
| --- | --- |
| Sterling silver chain option | pendant only, 16 inch chain, 18 inch chain, 20 inch chain, 22 inch chain |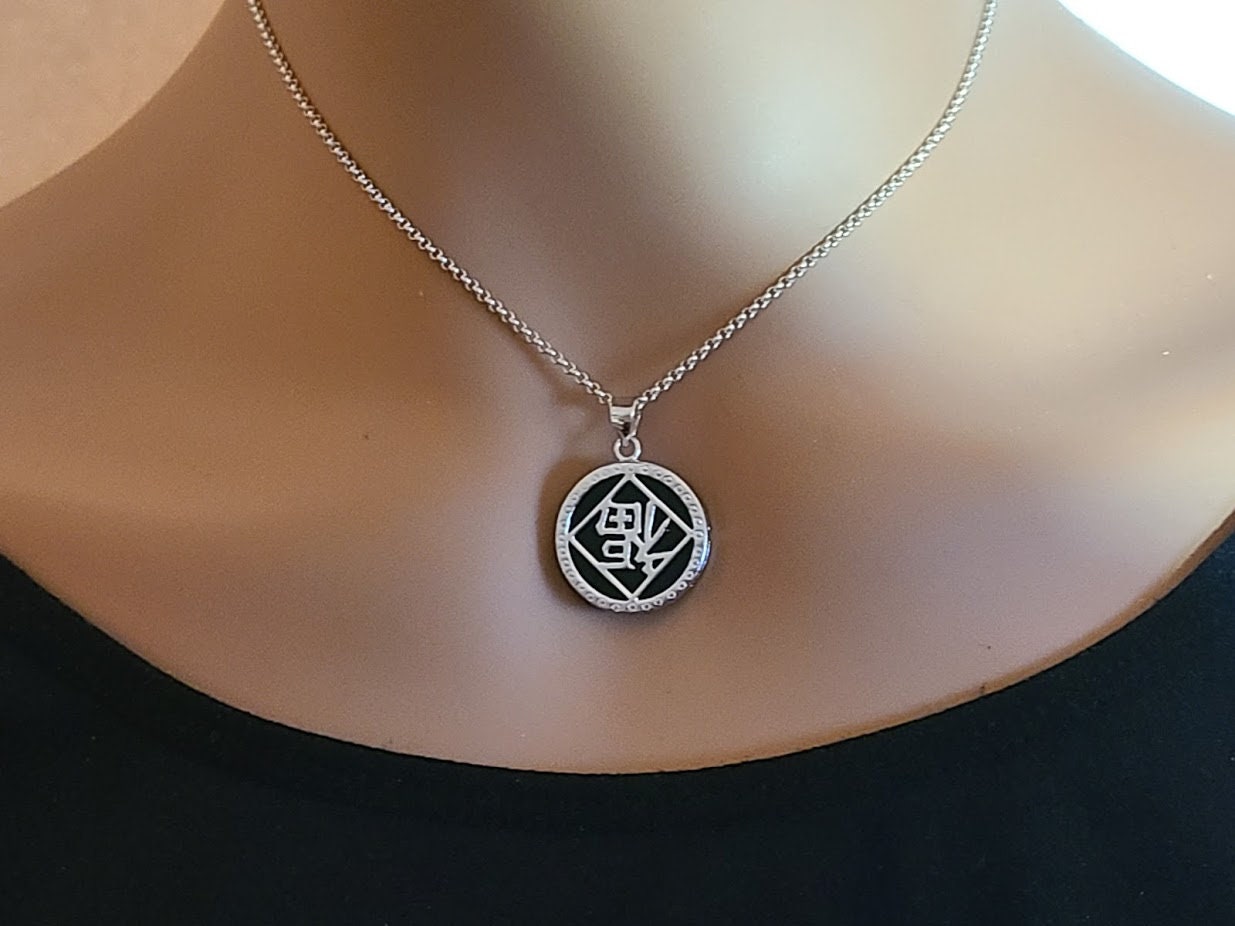 Chinese Character Black Onyx Pendant – 92.5 Sterling Silver Jewelry