Shop Stunning Citrine Long Faceted Earrings | Genuine Gemstones | 92.5 Silver Setting
Introducing our exquisite Citrine long faceted earrings, adorned with breathtaking citrine gemstones and delicately set in high-quality 92.5″ silver. These earrings are the epitome of elegance and style, perfect for adding a touch of sophistication to any ensemble. Crafted with utmost precision, these earrings boast faceted citrine gemstones that shimmer and sparkle with every movement. The vibrant citrine stones are known for their stunning yellow hues, symbolizing warmth, joy, and abundance. Their luminous brilliance is beautifully complemented by the timeless elegance of the 92.5″ silver setting. Not only do these earrings showcase a dazzling design, but they also offer numerous advantages. The long and slender silhouette of the earrings gracefully elongates the neck, adding a touch of effortless glamour to any outfit. With their versatile design, they can effortlessly transition from day to night, enhancing both casual and formal attire. What truly sets these earrings apart is the exceptional quality and craftsmanship. Each piece is meticulously handcrafted with attention to detail, ensuring a flawless finish. The 92.5″ silver setting ensures durability and longevity, making these earrings a timeless addition to your jewelry collection. Indulge in the allure of our Citrine long faceted earrings, and experience the perfect blend of elegance, beauty, and craftsmanship. Elevate your style and embrace the distinctive qualities of these captivating earrings, making every moment an occasion to shine.
Length about 45 mm
dimensions of citrine with silver about 6 mm X 10 mm
Citrine stones about 4 mm
Introducing our stunning Citrine Long Faceted Earrings, a true embodiment of elegance and sophistication. These exquisite earrings are meticulously crafted with genuine citrine gemstones, expertly set in a high-quality 92.5″ sterling silver frame. The allure of these earrings lies in their exceptional design and attention to detail. Each citrine gemstone is carefully cut into a mesmerizing faceted shape, allowing the light to dance and reflect off its multiple surfaces. The result is a captivating play of colors, illuminating your every move and accentuating your natural beauty. Here are some unique features that set our Citrine Long Faceted Earrings apart: 1. Unparalleled Brilliance: The faceted cut enhances the citrine gemstones' natural brilliance, creating a dazzling spectacle that is sure to turn heads wherever you go. 2. Versatile Length: These earrings boast an elongated design, gracefully cascading down from your earlobes. This length not only adds a touch of glamour but also provides a subtle elongating effect, effortlessly enhancing your overall appearance. 3. Finest Materials: Crafted with the utmost care, our earrings feature 92.5″ sterling silver, renowned for its durability and luxurious shine. This guarantees a timeless piece that will maintain its beauty for years to come. 4. Citrine's Radiant Energy: Known as the "merchant's stone," citrine is believed to carry the energy of success and abundance. By wearing these earrings, you can invite prosperity and positivity into your life, creating a harmonious balance between style and symbolism. The benefits of owning our Citrine Long Faceted Earrings extend beyond their aesthetic value: – Elevating Any Outfit: Whether you're attending a formal event or simply adding a touch of glamour to your everyday attire, these earrings effortlessly elevate any outfit, making you feel confident and radiant. – A Meaningful Gift: Delicate yet dazzling, these earrings make for an exquisite gift that speaks volumes. The combination of citrine's metaphysical properties and the timeless elegance of the design makes them a cherished and meaningful token of love and appreciation. – Unmatched Versatility: From glamorous evenings to casual brunches, these earrings easily transition from day to night. Their effortless versatility ensures that you'll always have the perfect accessory to complement any occasion. In a world filled with mass-produced jewelry, our Citrine Long Faceted Earrings stand out as a testament to craftsmanship, individuality, and impeccable style. These earrings not only exude opulence but also carry a story, a piece of art that becomes an extension of your personality. Indulge yourself or surprise someone dear to you with our Citrine Long Faceted Earrings today, and experience the undeniable allure and exceptional quality that only this exquisite jewelry can offer. Bold and captivating, they are the perfect embodiment of timeless elegance, guaranteed to make a statement wherever life takes you.
Specification:
Shop Stunning Citrine Long Faceted Earrings | Genuine Gemstones | 92.5 Silver Setting
| | |
| --- | --- |
| Ear hook option | Wire ear hook, Lever back |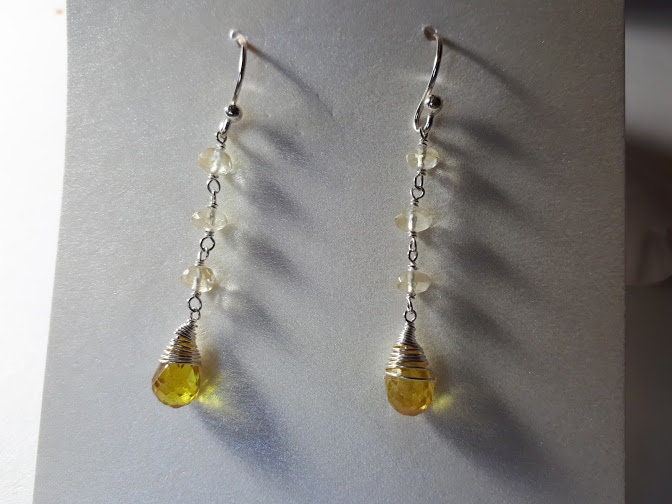 Shop Stunning Citrine Long Faceted Earrings | Genuine Gemstones | 92.5 Silver Setting