Exquisite 92.5 Sterling Silver Perfume Flask – Add Elegance and Glamour
The 92.5 sterling silver Perfume Flask is a luxurious and elegant accessory that will captivate your senses. Crafted with precision and attention to detail, this flask is not just a container for your favorite fragrance, but a work of art that exudes sophistication. Its pivotal features include the highest quality sterling silver, ensuring durability and longevity. The advantages of this product are manifold – It is the perfect size to carry in your purse or pocket, making it easily accessible whenever you desire a quick spritz of your favorite scent. The exquisite design with intricate engravings adds a touch of glamour, making it a statement piece that is sure to turn heads. Additionally, the sterling silver material ensures that your perfume remains fresh and unaltered. With its distinctive qualities, this Perfume Flask stands out from the rest, making it an essential accessory for those who appreciate the finer things in life. Indulge yourself in the allure of this exquisite flask and enhance your fragrance experience.
Introducing our extraordinary WordPress product: the Perfume Flask in 92.5 Sterling Silver. Prepare to embark on a scintillating olfactory adventure like no other as we delve into the mesmerizing details of this exquisite creation. Immerse yourself in the wondrous world of luxury and elegance as we unravel the unique features, benefits, and unrivaled value that this captivating flask brings to the discerning individual. Crafted with meticulous precision, this perfume flask showcases the captivating beauty of 92.5 sterling silver. Its gleaming façade enchants the eye, effortlessly reflecting the surrounding world, and exuding a timeless charm. Embodying the perfect synthesis of grace and grandeur, this remarkable creation becomes an art piece in itself, offering a tangible testament to refined taste and discerning sensibilities. Aesthetic excellence aside, the Perfume Flask in 92.5 Sterling Silver boasts an array of unique features that set it apart from run-of-the-mill containers. Let us enthrall you with the enchanted secrets it holds: 1. **Exquisite Craftsmanship:** Each flask is meticulously handcrafted by master artisans, ensuring unparalleled quality and attention to detail. The sleek, contoured silhouette fits snugly in your hand, affording an indulgent tactile experience. 2. **Practical Versatility:** This flask seamlessly combines beauty with practicality, accommodating a generous 30ml (1oz) capacity. Its compact size allows for convenient portability, effortlessly slipping into a purse or pocket, making it an indispensable companion for life's extraordinary moments. 3. **Elevated Hygiene:** The sterling silver construction not only enhances the flask's appearance but also imparts antibacterial properties. This remarkable aspect ensures that your precious fragrance remains untouched by impurities and preserves its integrity, assuring you of an unparalleled sensorial experience with every use. 4. **Personalization Perfection:** Tailor this majestic flask to your individual taste and style with optional engraving services. Transform it into a cherished heirloom or a heartfelt gift masterpiece, bearing initials, monograms, or cherished quotes, further elevating its uniqueness. 5. **Endless Possibilities:** Beyond perfume, this versatile flask becomes an enchanting vessel for carrying essential oils, tonics, or even a splash of your beloved cologne. Its transformative nature allows you to carry an aromatic world with you, captivating every passerby with your exquisite aroma. The Perfume Flask in 92.5 Sterling Silver transcends the realm of a mere container, for it is a portal to a world filled with elegance, luxury, and timeless allure. Its mesmerizing beauty coupled with its myriad of remarkable features etches invaluable moments in the tapestry of your life, enveloping you in a cocoon of scented opulence. Indulge in the pleasures that this remarkable flask affords, as it imbues your every encounter with an aura of sophistication and distinction. Unveil the power of perfume with a touch of sterling silver magic, and step into a world where luxury and refinement reign supreme. Elevate your senses, transcend the ordinary, and embrace the extraordinary with the Perfume Flask in 92.5 Sterling Silver.
Total length about : 35 mm
Diameter of flask about: 17 mm
Specification:
Exquisite 92.5 Sterling Silver Perfume Flask – Add Elegance and Glamour
| | |
| --- | --- |
| Sterling silver chain option | Pendant only, 16 inch chain, 18 inch chain, 20 inch chain, 22 inch chain |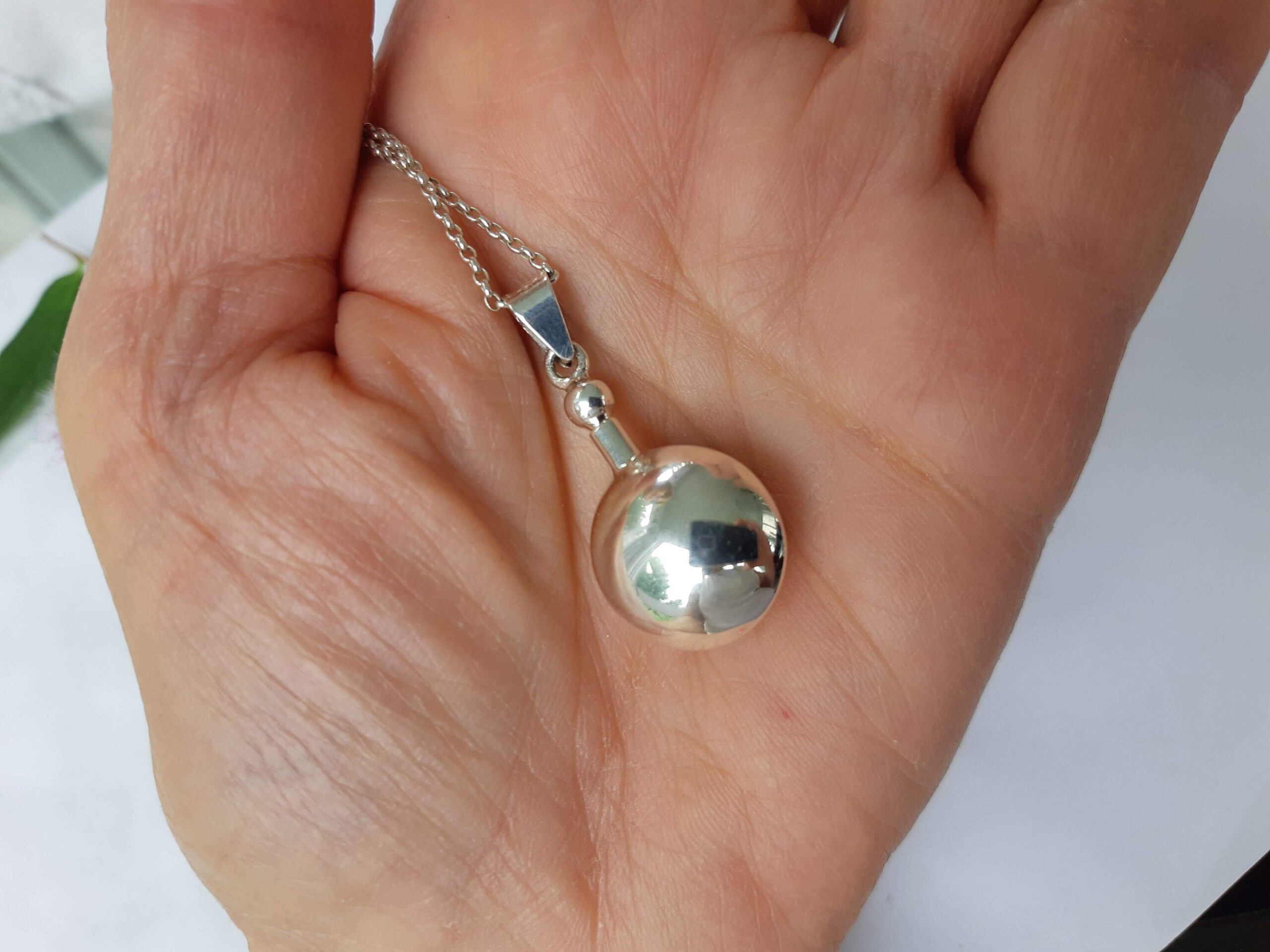 Exquisite 92.5 Sterling Silver Perfume Flask – Add Elegance and Glamour