Faceted amethyst ring set in 92.5 sterling silver
Introducing our irresistible Faceted Amethyst Ring – a stunning piece set in 92.5 sterling silver. This enchanting gemstone promises both beauty and elegance, captivating hearts with its captivating facets and lustrous purple hue. Crafted with precision, our ring embraces the unparalleled quality of sterling silver, ensuring durability and luxurious appeal. The faceted design adds a touch of sophistication, catching eyes from every angle. Whether you're a fashion enthusiast or seeking a precious gift, this ring will effortlessly elevate any outfit or occasion. Experience the allure of our Faceted Amethyst Ring and indulge in its distinctive charm.
Introducing our exquisite faceted amethyst ring set in 92.5 sterling silver, where timeless elegance meets contemporary charm. This captivating piece emanates an aura of sophistication, effortlessly becoming the crowning jewel of any collection. Crafted with the utmost precision, our faceted amethyst ring showcases the stunning beauty of this mesmerizing gemstone. The amethyst, with its enchanting purple hues, effortlessly captures and reflects light, creating a remarkable play of colors that is sure to catch the eye. Embellished with a faceted cut, every angle reveals a fascinating sparkle that adds an extra dimension of allure. The majestic amethyst, known for its symbolism of tranquility and spiritual clarity, holds a plethora of unique features that make this ring truly exceptional. Its shimmering purple tones are believed to purify the mind and enhance spiritual growth, promoting a heightened sense of peace and inner balance. Nestled within the embrace of a 92.5 sterling silver setting, this ring radiates a sense of timelessness and charm. Known for its durability, sterling silver ensures that this piece remains as striking as its first day, withstanding the test of time. Its cool metallic tone beautifully complements the regal purple of the amethyst, creating a harmonious marriage between gemstone and metal. Indulge in the benefits of wearing this magnificent faceted amethyst ring. Let its mesmerizing beauty captivate your senses and uplift your spirit, bringing an extraordinary sense of tranquility and serenity to your day. Whether worn as an everyday accessory or for those special occasions, this ring effortlessly complements any ensemble, effortlessly elevating your style. Embrace the allure of this faceted amethyst ring and let it be a reflection of your unique personality. Its captivating beauty and meaningful symbolism make it an ideal gift for your loved ones, an everlasting token of your affection and appreciation. In a world teeming with options, this stunning faceted amethyst ring set in 92.5 sterling silver stands out as a testament to exceptional craftsmanship and timeless elegance. Experience the unrivaled value it brings to your jewelry collection, an heirloom-worthy piece that transcends trends and resonates in the hearts of all who behold it. Immerse yourself in the enchantment of our faceted amethyst ring set in 92.5 sterling silver. Let its subtle brilliance adorn your finger and unlock a world of elegance and charm that is truly unmatched.
Dimensions about about 12 mm X 9 mm
Specification:
Faceted amethyst ring set in 92.5 sterling silver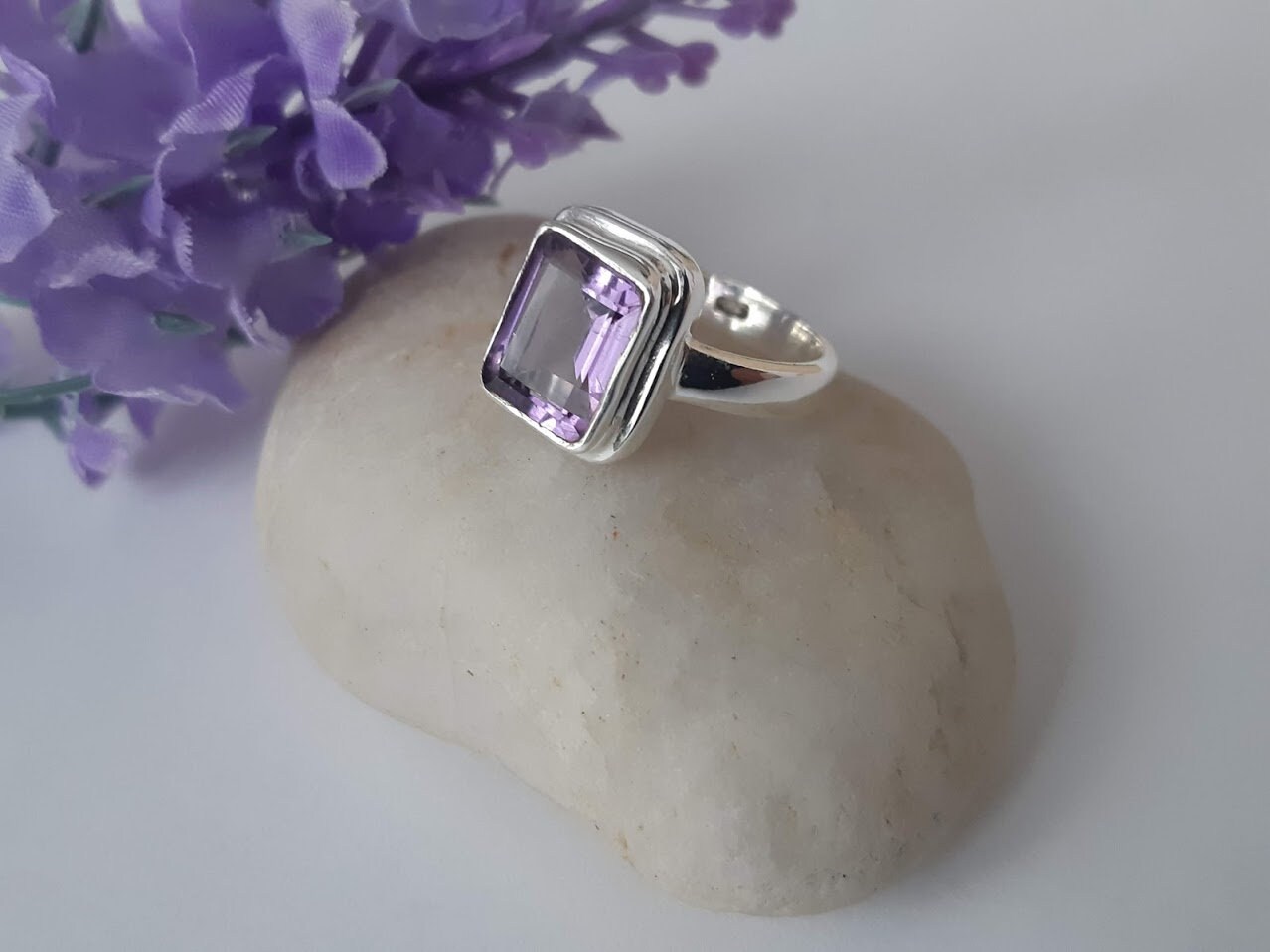 Faceted amethyst ring set in 92.5 sterling silver