Gorgeous Size 6 Genuine Moonstone Ring | Rainbow Moonstone in 92.5 Sterling Silver
Introducing our stunning Genuine Moonstone Ring, size 6 (US/Canadian size), crafted with ethereal Rainbow Moonstone and high-quality 92.5 Sterling Silver. This exquisite piece effortlessly blends elegance and mystique, showcasing the timeless beauty of moonstone. Immerse yourself in its captivating allure as the moonstone dances in the light, revealing a mesmerizing play of colors and a dreamy iridescence. The subtle rainbow hues within the stone enhance its uniqueness, ensuring that no two rings are alike. This breathtaking gemstone is delicately set in a durable and lustrous sterling silver band, adding a touch of sophistication to any outfit. Beneath its enchanting exterior lies the assurance of genuine moonstone and authentic 92.5 sterling silver, guaranteeing unmatched quality and longevity. The carefully crafted size 6 ring offers a perfect fit for both US and Canadian customers, providing utmost comfort for everyday wear. Whether worn as a symbol of elegance, spirituality, or a statement of personal style, this Genuine Moonstone Ring is a cherished piece that will effortlessly complement any occasion. Embrace the magic of moonstone and indulge in its timeless beauty today.
Introducing the ethereal charm of our Genuine Moonstone Ring! Handcrafted with love, this exquisite piece features a mesmerizing rainbow moonstone, delicately encased in 92.5 sterling silver. The allure of this gem lies in its ever-changing hues, reflecting a breathtaking kaleidoscope of colors with every movement. This captivating ring doesn't just enhance your style, it also holds a deeper meaning. Moonstone is believed to bring harmony and balance into your life, soothing emotions and enhancing intuition. Its tranquil aura is said to bring forth new beginnings, making it a perfect companion on your journey of self-discovery and growth. The unique features of our Genuine Moonstone Ring include: – **Size 6 (US/Canadian size):** Ensuring the perfect fit for your finger, without any hassle. – **Rainbow Moonstone:** This exceptional gemstone boasts a captivating play of colors, evoking a mesmerizing aura of mystique. – **92.5 Sterling Silver:** The high-quality silver setting provides durability, while adding a touch of elegance to your individual style. Indulge in the enchantment of our Genuine Moonstone Ring and embrace the beauty it brings to your personal style. Step into a world of elegance and spirituality, where the moon's ethereal glow resides on your finger, reminding you of the infinite possibilities that lie ahead.
Approximate stone dimensions 9 mm and with silver: 23 mm
Weight: 5.4 grams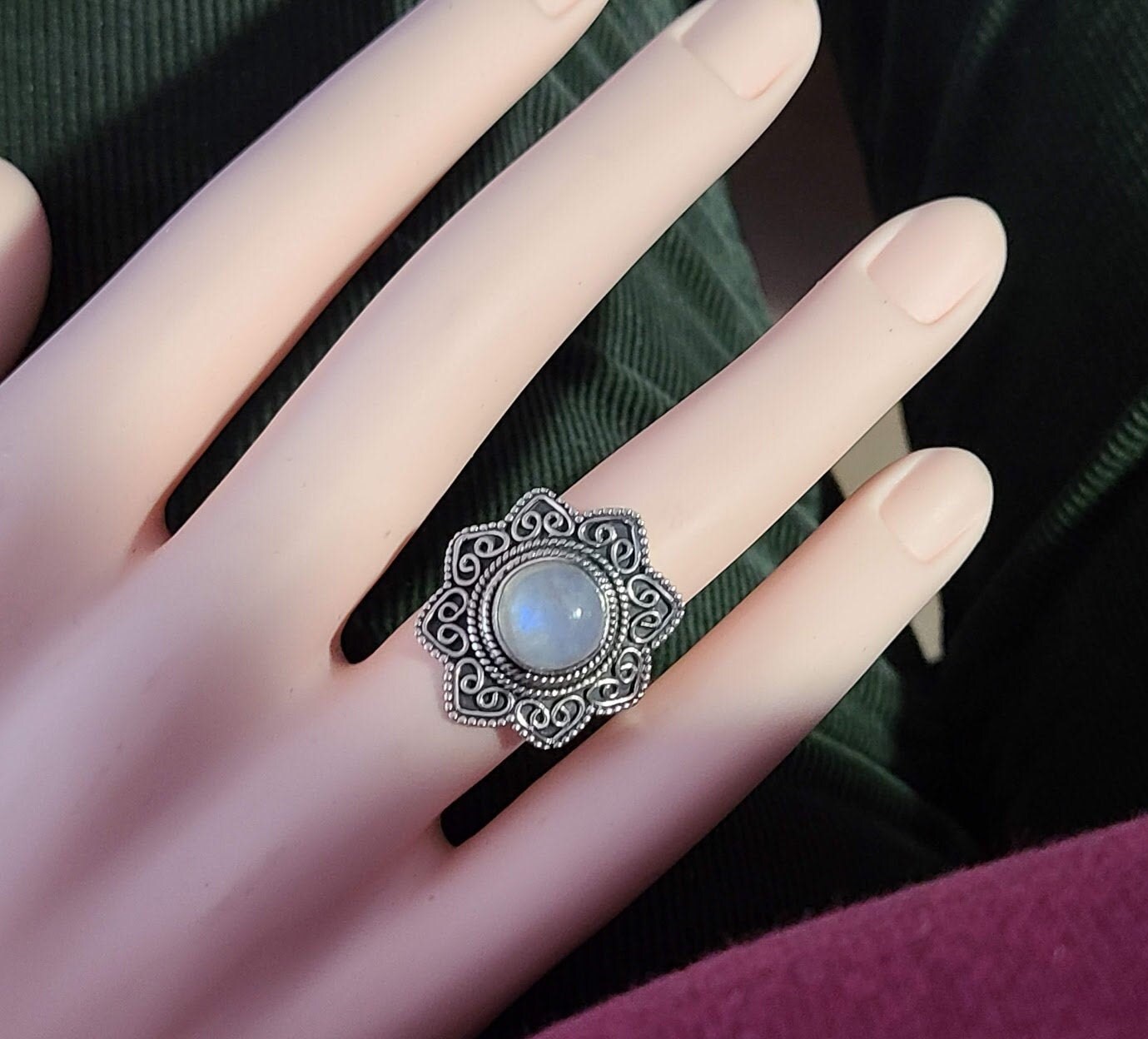 Gorgeous Size 6 Genuine Moonstone Ring | Rainbow Moonstone in 92.5 Sterling Silver