Handcrafted Green Onyx Stud Earrings in 92.5 Sterling Silver – Elegant and Sustainable Jewelry
Introducing our exquisite Green Onyx Stud Earrings, expertly crafted in 92.5 sterling silver. These stunning earrings effortlessly combine elegance and style, making them the perfect accessory for any occasion. The vibrant green hue of the onyx stones radiates energy and sophistication. With their classic stud design, these earrings offer both comfort and versatility. Crafted with sterling silver, they boast durability and a timeless allure that will last for years to come. Indulge in the distinct charm of our Green Onyx Stud Earrings, a must-have addition to your jewelry collection.
Green onyx gemstone stud earrings set in 92.5 sterling silver.
Diameter about 7 mm
Green Onyx Stud Earrings Set in 92.5 Sterling Silver
Embrace Elegance and Nature's Beauty
Indulge in the enchanting allure of our Green Onyx Stud Earrings, meticulously crafted and set in premium 92.5 sterling silver. These earrings effortlessly blend timeless elegance with the refreshing hues of nature, creating a captivating accessory that is sure to turn heads.
An Unparalleled Fusion of Style and Quality
Our Green Onyx Stud Earrings boast a unique fusion of elements that set them apart from ordinary jewelry. Let's explore what makes this exquisite piece truly one-of-a-kind:
High-Quality Materials: Crafted from 92.5 sterling silver, these earrings guarantee unmatched durability and everlasting radiance. The silver metalwork accentuates the vibrant beauty of the green onyx gemstones, making it a remarkable visual masterpiece.
Green Onyx Gemstones: The spotlight of this design, the green onyx gemstones, exude an aura of elegance and sophistication. These mesmerizing stones are known for their soothing energy and ability to promote positivity and harmony.
Precision and Design: Our skilled artisans have meticulously handcrafted these stud earrings to ensure a flawless finish. With intricate attention to detail, every facet and curve has been formed to perfection, creating a pair of earrings that captivate and inspire.
Versatile Styling Options: From casual outings to glamorous events, these stud earrings effortlessly elevate any ensemble. Their timeless design makes them perfect for everyday wear or as a statement piece to complement a special occasion outfit.
Experience the Green Onyx Magic
Beyond their sheer beauty, the Green Onyx Stud Earrings bring an array of benefits and value to your accessory collection:
Emotional Well-being: Green onyx is believed to enhance emotional strength and balance, soothing stress and anxiety, and promoting a sense of calmness. Wearing these earrings can be a daily reminder to embrace tranquility and nurture your inner peace.
Natural Healing: The green onyx gemstones are associated with the heart chakra, symbolizing love, compassion, and forgiveness. By wearing these earrings, you invite positive energy to flow into your life, fostering emotional healing and overall well-being.
Signature Style: With their delicate green hue and sterling silver setting, these earrings become a signature accessory that reflects your refined taste. Stand out from the crowd and make a lasting impression with an ethereal touch of nature on your ears.
Elevate Your Jewelry Collection Today
Our Green Onyx Stud Earrings set in 92.5 sterling silver harmonize the best of nature and craftsmanship, delivering an unmistakable sense of beauty and grace. Embrace the elegance and embrace the power of green onyx; make a statement that goes beyond style with these captivating earrings.
Order now and experience the transformative allure of the Green Onyx Stud Earrings.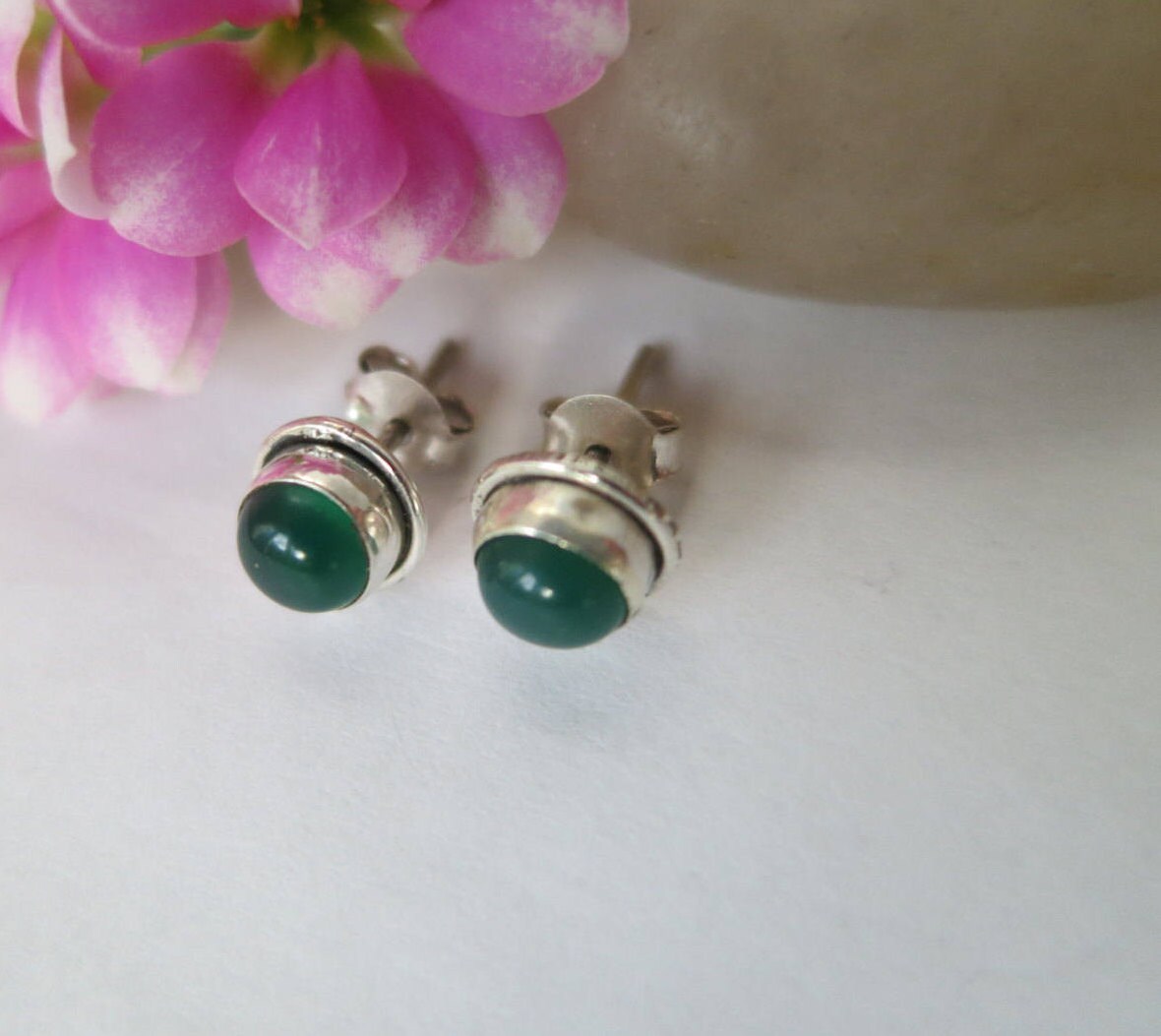 Handcrafted Green Onyx Stud Earrings in 92.5 Sterling Silver – Elegant and Sustainable Jewelry