Exquisite Labradorite Necklace with 92.5 Sterling Silver Chain | Enhance Your Style with this Stunning Jewelry
Introducing our mesmerizing Labradorite necklace, a true gem that will leave you spellbound. Made with a high-quality 92.5 sterling silver chain, this accessory oozes elegance and sophistication. The star of the show is the enchanting Labradorite pendant, known for its captivating play of colors that dance with every movement. Whether you're dressing up for a special occasion or adding a touch of glamour to your everyday look, this necklace is a must-have. Its versatile design and exquisite craftsmanship make it a valuable addition to any jewelry collection. Elevate your style and embrace the allure of Labradorite with this stunning necklace.
Introducing our exquisite Labradorite necklace, a true gem crafted to perfection! Draped elegantly on a 92.5 sterling silver chain, this one-of-a-kind accessory is a must-have for any jewelry aficionado. Prepare to be captivated by its stunning beauty and enchanted by the mystical allure it exudes. At the heart of this enchanting necklace lies the mesmerizing Labradorite stone. Renowned for its captivating play of colors, Labradorite embodies the magic of nature and offers a unique visual feast for the eyes. With its iridescent flashes of blue, green, and gold, each stone possesses an ethereal charm that effortlessly catches the light and casts an otherworldly glow. Crafted with meticulous attention to detail, our Labradorite necklace embraces the natural beauty of this exceptional stone. The 92.5 sterling silver chain complements the Labradorite's color palette, radiating a timeless elegance that seamlessly combines traditional and contemporary aesthetics. The sterling silver chain not only enhances the overall design but also guarantees durability, ensuring a lasting treasure that will accompany you through every occasion. But the captivating allure of this necklace doesn't end with its astonishing beauty. Labradorite is believed to hold incredible metaphysical properties that bring a myriad of benefits to its wearer. This ethereal gemstone is renowned for its ability to stimulate the imagination, enhance intuition, and awaken one's inner creativity. It is also said to provide a sense of calm and tranquility, promoting emotional healing and balance in the midst of life's chaos. As you wear our Labradorite necklace, expect to be infused with an undeniable air of mystery and elegance. Let the enchanting play of colors against your skin transcend you into a realm where magic and reality intertwine. Whether it's a casual outing, a special event, or a cherished gift for a loved one, this necklace is a statement piece that effortlessly elevates any ensemble. Indulge in the value that our Labradorite necklace brings to your jewelry collection. Immerse yourself in the world of exquisite craftsmanship, where nature's marvels meet expert artistry. Witness the fusion of sterling silver and Labradorite in perfect harmony, each element enhancing the allure and allure of the other. Unlock the gate to an ethereal and enchanting realm with our Labradorite necklace – a masterpiece that transcends time, trends, and expectations. Elevate your style and embrace the mystique that this captivating accessory brings. Spark conversations and turn heads as you conquer the day with an unmatched touch of elegance. Order your Labradorite necklace now and embark on a journey of beauty, elegance, and enchantment. Welcome the magic of Labradorite into your life and experience the ethereal glow it bestows upon you.
Length is adjustable:

14.25 inches
16.25 inches
17.5 inches

Small stones about 3 mm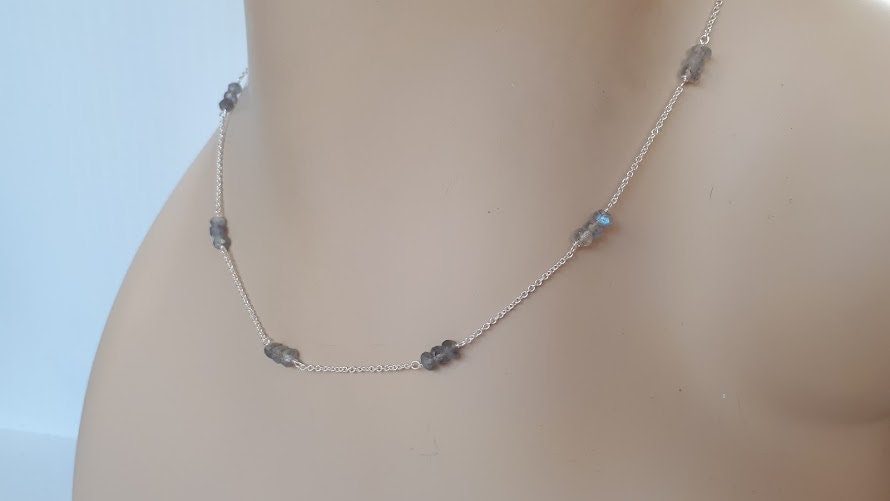 Exquisite Labradorite Necklace with 92.5 Sterling Silver Chain | Enhance Your Style with this Stunning Jewelry