Labradorite Ring: Stunning 92.5 Sterling Silver Jewelry for an Elegant Look
Introducing the stunning Labradorite Ring, expertly crafted in 92.5 sterling silver. This exquisite piece of jewelry exudes elegance and charm, making it a must-have for any fashion enthusiast. With its captivating Labradorite gemstone, this ring boasts a mesmerizing play of colors that will leave you spellbound. The 92.5 sterling silver setting adds a touch of sophistication, ensuring durability and longevity. Whether you want to make a statement or add a subtle touch of brilliance to your outfit, this Labradorite Ring is the perfect accessory. Don't miss out on owning this unique piece that combines beauty, quality, and style effortlessly.
This stunning Labradorite ring will sure to get you attention made with 92.5 pure silver. labradorite is said to posses calming properties.
CODE: 812
Introducing our mesmerizing Labradorite Ring set in 92.5 sterling silver, a true masterpiece that effortlessly blends elegance, allure, and ethereal beauty. Crafted with utmost precision and skill, this enchanting piece of jewelry is bound to become the crowning glory of your collection. The Labradorite Ring features a stunning gemstone that will transport you into a realm of captivating colors and mysterious depths. As light dances upon its surface, this iridescent gemstone reveals an enchanting play of vibrant blues, hypnotic greens, and fiery golds. Each stone boasts its unique combination of hues, making every Labradorite Ring truly one-of-a-kind. Encased in the richness of 92.5 sterling silver, this ring exudes both restraint and sophistication. The intricate silver band, flawlessly formed by expert artisans, adds a touch of delicate charm while keeping the focus on the magnificent Labradorite stone. The smooth and polished surface of the silver not only emphasizes the gemstone's brilliance but also ensures a comfortable fit that will grace your finger with grace and ease. Beyond its captivating aesthetics, this Labradorite Ring offers more than meets the eye. Labradorite is renowned for its extraordinary healing properties, believed to promote calmness, balance, and inner strength. It is thought to shield the wearer from negative energies, providing a sense of protection and enhancing spiritual growth. With this ring adorning your finger, you not only adorn yourself with beauty but also invite positive energy into your life. Whether you wear it as a symbol of elegance during formal occasions or to add a touch of allure to your everyday look, this Labradorite Ring serves as an understated statement piece that effortlessly complements any outfit. Its versatility allows it to shine as a centerpiece, or as part of a stylish stack of rings, allowing you to showcase your unique style and creativity. Indulge in the luxurious beauty of our Labradorite Ring set in 92.5 sterling silver and experience the allure and enchantment it brings to your life. It is a true testament to the undeniable value of exceptional craftsmanship, timeless design, and the effortless elegance that this piece will infuse into every moment. Unleash the captivating charm of Labradorite, embrace the extraordinary, and allow this exquisite ring to be the key that unlocks the door to a world of beauty and self-expression. Add it to your collection today and elevate your style to new heights.
Specification:
Labradorite Ring: Stunning 92.5 Sterling Silver Jewelry for an Elegant Look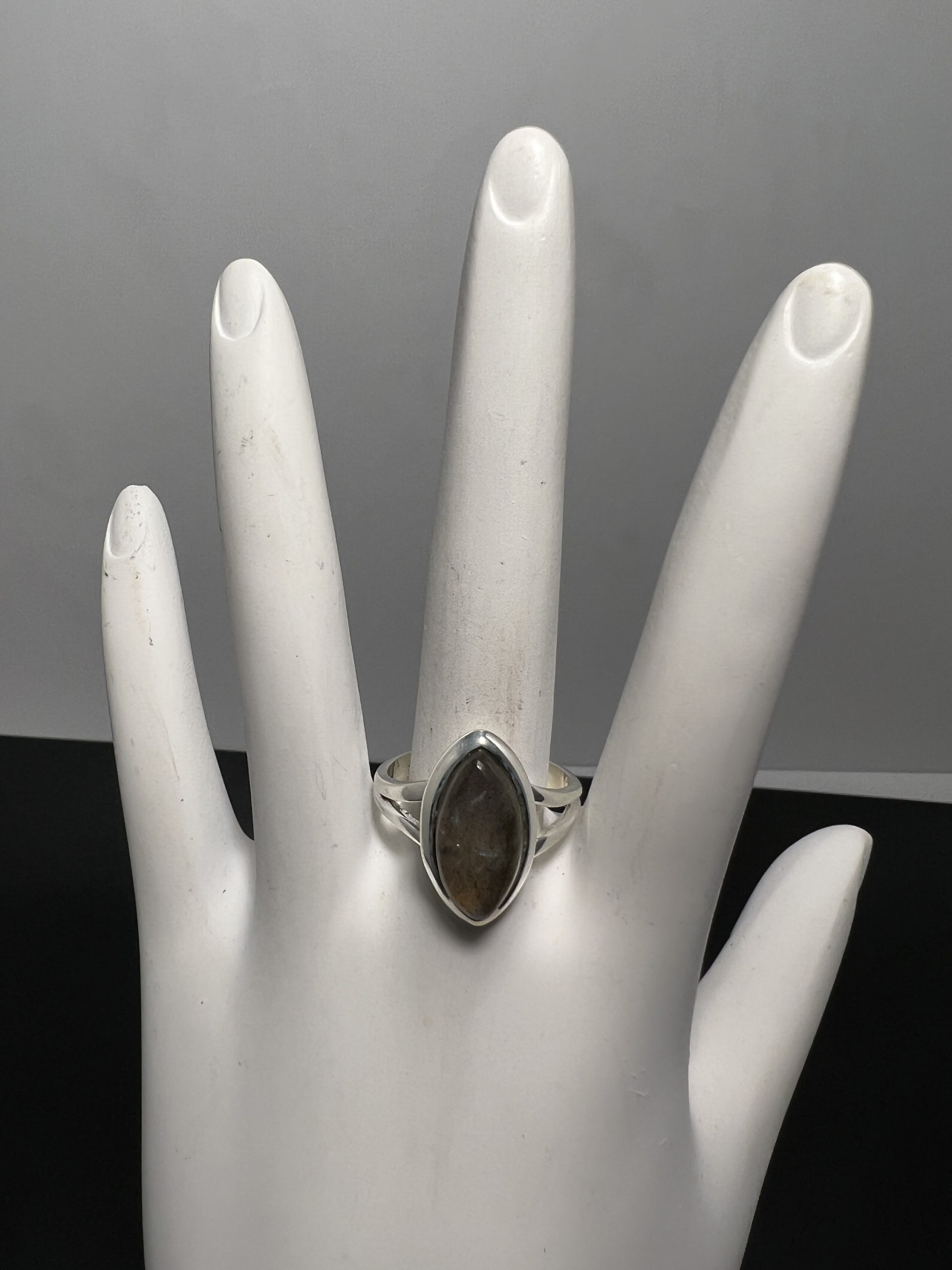 Labradorite Ring: Stunning 92.5 Sterling Silver Jewelry for an Elegant Look