Lapis Lazuli Natural Stone Pendant – Exquisite 92.5 Sterling Silver Jewelry
Introducing our exquisite WordPress product, the Lapis Lazuli Pendant Set in 92.5 Sterling Silver. This natural stone pendant is not only visually stunning but also boasts several compelling features and advantages. Finely crafted with high-quality silver, this pendant showcases a captivating lapis lazuli stone that captivates onlookers with its rich blue hue and intricate patterns. The pendant's distinctive qualities lie in its authenticity, as the stone is completely natural, making each piece unique. With its sterling silver setting, this pendant exudes elegance and durability, ensuring it withstands the test of time. Whether for personal use or as a gift, this Lapis Lazuli Pendant Set is the perfect blend of beauty and quality, sure to become a treasured favorite.
Sterling silver lapis lazuli pendant with calcium inclusions. Sterling silver chain option.
Total length: 37 mm
Size about 12 mm X 23 mm
Weight: 3.62 grams
Code: 50
Introducing the unparalleled beauty of our Lapis Lazuli Pendant Set in 92.5 Sterling Silver, a captivating masterpiece that seamlessly marries the timeless elegance of sterling silver with the enchanting allure of natural stone. Prepare to embark on a mesmerizing journey through the depths of its exquisite design, as we unveil its unique features, countless benefits, and the unparalleled value it brings. Crafted with utmost precision and passion, this extraordinary pendant showcases the mesmerizing allure of Lapis Lazuli, a gemstone steeped in rich history and mystique. Each piece of this extraordinary jewelry boasts a carefully hand-selected Lapis Lazuli stone, dazzling with shades of deep celestial blues, interspersed with golden flecks reminiscent of a star-studded night sky. The stone's inherent natural variations make each pendant truly one-of-a-kind, preserving the spirit of individuality and exclusivity. Encased in 92.5 sterling silver, known for its unmatched purity and durability, this pendant exudes a luxurious sheen while exquisitely complementing the vivid hues of the Lapis Lazuli stone. Handcrafted by seasoned artisans, the pendant flaunts intricate detailing that captures the essence of sophistication and craftsmanship. Its ergonomic design ensures a comfortable wearing experience, making it the perfect accessory to elevate any ensemble, be it casual or formal. The Lapis Lazuli gemstone carries a host of metaphysical and healing properties, making this pendant not only visually captivating but spiritually uplifting as well. Renowned for its association with wisdom, clarity, and self-expression, Lapis Lazuli unveils a pathway to inner truth, guiding us towards enhanced self-awareness and personal growth. Harness the stone's healing energies as it works harmoniously with your aura, promoting a renewed sense of balance, calmness, and spiritual enlightenment. Investing in this exceptional Lapis Lazuli Pendant is more than mere adornment; it signifies a meaningful connection to the beauty of the natural world and the rich tapestry of human history. The sterling silver setting ensures longevity, guaranteeing that this pendant will remain a cherished heirloom for generations to come. Imagine the envy in the eyes of onlookers, their gazes irresistibly drawn to the enchanting charm of this pendant as it gracefully adorns your neckline. Whether you wear it as a statement piece, a symbol of self-expression, or a reminder of your journey towards self-discovery, this Lapis Lazuli Pendant Set in 92.5 Sterling Silver will effortlessly elevate your style and capture hearts, all while embracing the bountiful energy and healing properties of this mesmerizing gemstone. Indulge in the captivating allure of our Lapis Lazuli Pendant Set and experience the harmonious fusion of timeless elegance, natural beauty, and spirit-enriching qualities. The journey awaits; seize the opportunity to adorn yourself with an awe-inspiring blend of nature and craftsmanship – the ultimate testament to your refined taste and appreciation for the extraordinary.
Specification:
Lapis Lazuli Natural Stone Pendant – Exquisite 92.5 Sterling Silver Jewelry
| | |
| --- | --- |
| silver chain option | pendant only, 16 inch chain, 18 inch chain, 20 inch chain, 22 inch chain |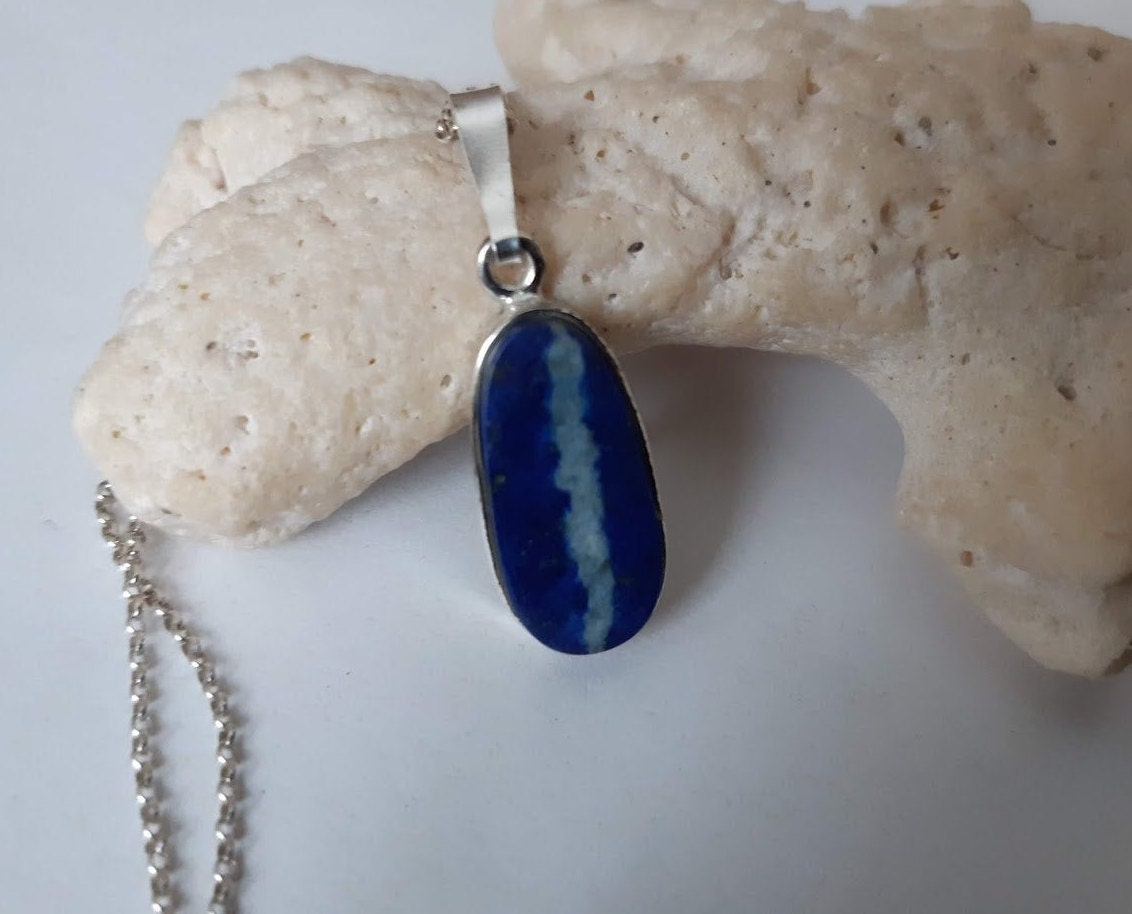 Lapis Lazuli Natural Stone Pendant – Exquisite 92.5 Sterling Silver Jewelry