Lapis Lazuli Ring – Size 10.5 (US/Canadian) – Solid 92.5 Sterling Silver | Stunning Gemstone Jewelry
Introducing a mesmerizing piece of artistry – the Lapis Lazuli ring. Crafted with pure elegance, this ring showcases the captivating beauty of lapis lazuli, embraced by solid 92.5 sterling silver. Perfectly sized at 10.5 (US/Canadian size), it offers a seamless fit and effortlessly drapes your finger in sheer luxury. Imbued with an exquisite aura, this ring effortlessly complements any attire, making it a versatile masterpiece. Boasting durability and timeless charm, this Lapis Lazuli ring is a statement accessory that surpasses ordinary jewelry. Elevate your style and indulge in the allure of this remarkable masterpiece today.
Introducing our extraordinary Lapis Lazuli Ring in a size 10.5 (US/Canadian size) that is bound to leave you mesmerized! Expertly crafted with utmost precision, this exquisite ring is a true manifestation of elegance and sophistication. Made with solid 92.5 sterling silver, this luxurious piece exudes timeless beauty, effortlessly complementing any attire from casual to formal. The lustrous silver sets the perfect stage for the star of the show – the mesmerizing lapis lazuli gemstone. The deep azure blue hue of the lapis lazuli is truly enchanting, reminiscent of a clear night sky adorned with stars. Each stone is carefully handpicked, ensuring its natural beauty shines through. The unique marbling pattern within the gem creates a captivating visual effect, making each ring a one-of-a-kind masterpiece. As you slip this ring onto your finger, you'll instantly feel a connection to the ancient mysticism and folklore associated with lapis lazuli. For centuries, this stone has been believed to harbor mystical properties that enhance wisdom, promote self-awareness, and bring inner peace. With this ring on your finger, you'll carry a piece of this mystical energy wherever you go. The size 10.5 ensures a comfortable fit, while the premium 92.5 sterling silver guarantees durability and longevity. The solid construction of this ring means it will withstand the test of time, becoming a cherished heirloom to pass down through generations. But the allure of this ring doesn't end there. It seamlessly blends timeless elegance with contemporary style, allowing you to effortlessly make a fashion statement wherever you go. Whether it's a special occasion or a casual outing, this ring will sparkle on your finger, drawing awe and admiration from all who catch a glimpse. Indulge yourself or surprise a loved one with this captivating lapis lazuli ring. It's not just an accessory; it's a piece of art that reflects your impeccable taste and discerning style. With its unique features, mystical benefits, and undeniable value, this ring is truly a treasure to behold. **Features:** – Solid 92.5 sterling silver construction for durability and long-lasting beauty. – Exquisite lapis lazuli gemstone with a deep blue hue and mesmerizing marbling. – Handpicked stones ensure each ring is a one-of-a-kind masterpiece. – Size 10.5 for a comfortable and perfect fit. – Seamlessly blends timeless elegance with contemporary style. **Benefits:** – Carries the mystical energy of lapis lazuli, promoting wisdom and self-awareness. – Enhances your aura of sophistication and style. – Durable construction ensures a long-lasting symbol of elegance and luxury. – A perfect gift for yourself or a loved one, marking a special occasion or celebration. – Creates a captivating visual effect, drawing attention and admiration. Elevate your jewelry collection with this captivating lapis lazuli ring, and let its enchanting beauty and mystical qualities become an integral part of your life's narrative. Order now and experience the allure of this extraordinary piece for yourself.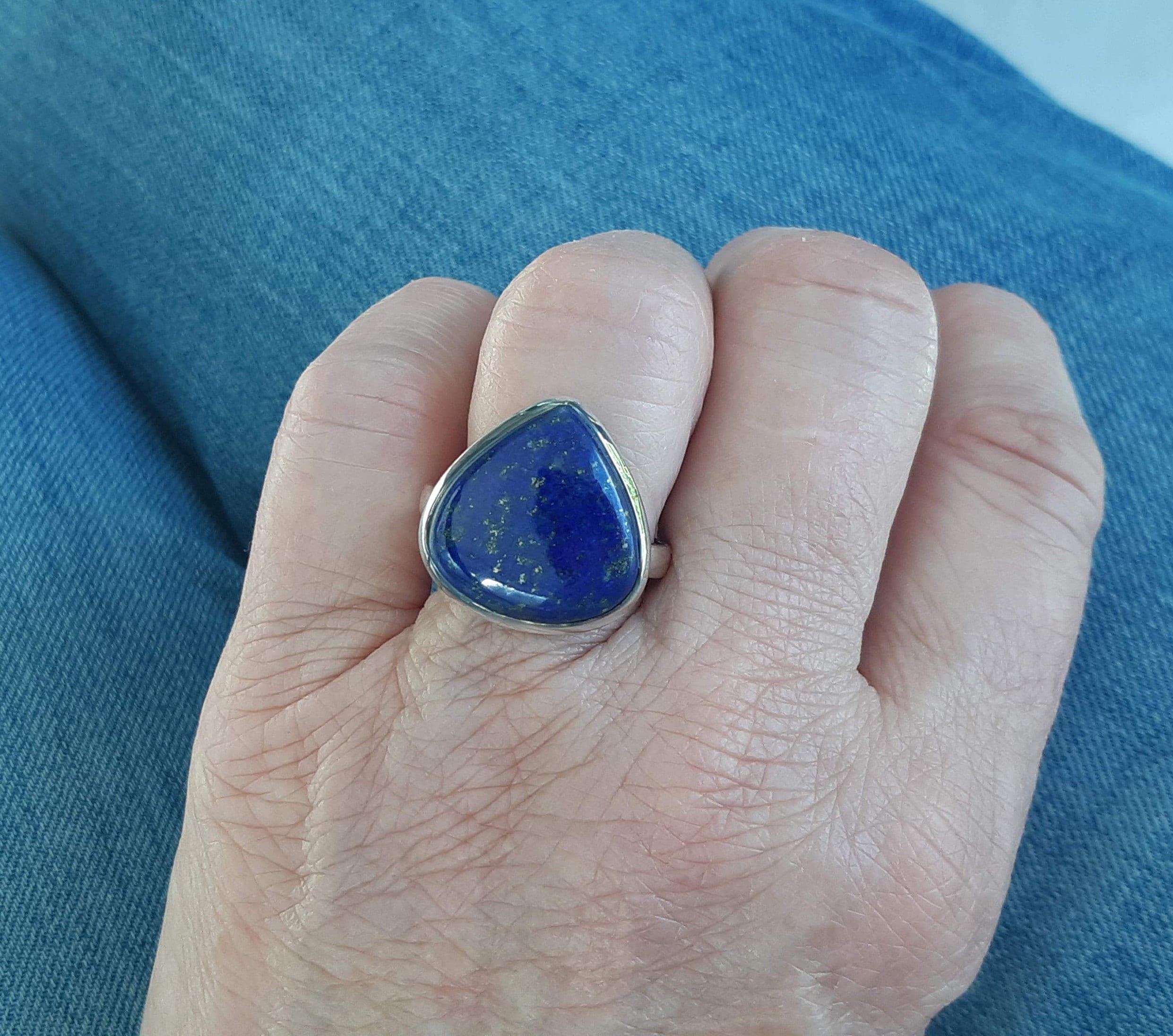 Lapis Lazuli Ring – Size 10.5 (US/Canadian) – Solid 92.5 Sterling Silver | Stunning Gemstone Jewelry