Large shiva eye pendant set in 92.5 sterling silver, sterling silver chain option
This beautiful large Shiva eye pendant set in 92.5 sterling silver is perfect for any jewelry collection. It features a stunning organic gem whose natural pattern is completely unique. Discovered in the shallow tropical waters of Thailand and Indonesia, the gem is actually the protective door found at the opening of the Turban Snail's shell. Representing wisdom, it is thought to look beyond the obvious; symbolizing the flow of life, the constant change of the universe, spiritual knowledge and creative visualization. The pendant comes with an optional choice of silver chain in 16 inch, 18 inch, 20 inch and 22 inch sizes. The perfect gift for any occasion!
Note that these are natural shells and can vary slightly from the one pictured. Please ask for pictures if needed.
Beautiful large Shiva eye pendant set in 92.5 sterling silver. Silver chain option
Diameter about 23 mm
Weight: 4.19 grams
Total length about 35 mm
Code: 106
Specification:
Large shiva eye pendant set in 92.5 sterling silver, sterling silver chain option
| | |
| --- | --- |
| silver chain option | pendant only, 16 inch chain, 18 inch chain, 20 inch chain, 22 inch chain |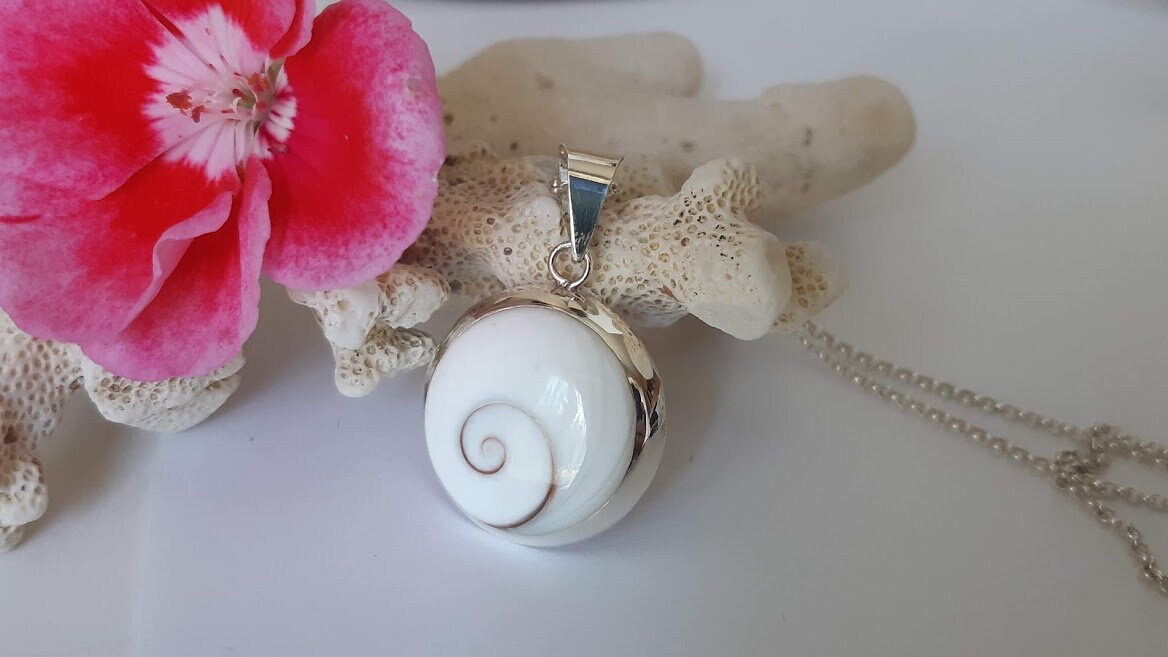 Large shiva eye pendant set in 92.5 sterling silver, sterling silver chain option