Stunning Malachite Pendant: Small Oval Green Gemstone in 92.5 Sterling Silver – Elevate Your Style
Introducing our exquisite Malachite pendant, a stunning piece crafted with a small oval green gemstone, elegantly set in 92.5 sterling silver. This captivating accessory perfectly captures the essence of sophistication and natural beauty. The distinct oval shape of the pendant showcases the vibrant green hues of the Malachite gemstone, radiating a sense of elegance and uniqueness. The carefully selected 92.5 sterling silver setting not only enhances the gemstone's allure but also ensures durability and lasting quality. This Malachite pendant offers more than just aesthetics. The gemstone itself carries numerous advantages and spiritual qualities. Malachite is known for its protective properties, shielding the wearer from negative energy and promoting healing and transformation. It is also believed to bring abundance, harmony, and balance to one's life. Crafted with utmost precision, this pendant combines the finest materials and expert craftsmanship. Its smaller size makes it versatile, suitable for various occasions, from casual everyday wear to formal events. Whether as a personal accessory or a thoughtful gift, our Malachite pendant is a remarkable choice that will surely leave a lasting impression. Indulge in the beauty and embrace the positive energy that our Malachite pendant exudes. Elevate your style and experience the extraordinary qualities of this magnificent gemstone, enclosed in sterling silver perfection.
Note that these are natural stones and there may be slight differences from the one pictured. Please let me know if you want pictures of the one to be shipped.
Introducing our exquisite Malachite pendant, a true masterpiece that effortlessly combines elegance and mystique. Crafted with utmost precision, this small oval gemstone, radiating a mesmerizing shade of green, finds its perfect sanctuary nestled in the embrace of 92.5 sterling silver. Prepare to embark on a journey where timeless beauty meets exceptional craftsmanship. Unveiling the unique features of this captivating ornament, let us take a closer look at what sets it apart from the ordinary. The Malachite pendant, with its distinct oval shape, exudes an aura of grace and sophistication that is bound to turn heads. This splendid gemstone, carefully handpicked for its flawless quality, showcases an enchanting array of mossy green hues, capturing the essence of nature's tranquility. Impeccably set in 92.5 sterling silver, this pendant possesses a lustrous brilliance that effortlessly complements the vibrant tones of the Malachite. The exceptional craftsmanship is evident in the intricate detailing of the silver framework, enhancing the overall allure of this piece. Delve deeper into the rich tapestry of the Malachite pendant, and discover its myriad of benefits that extend beyond its sheer beauty. Known for its metaphysical properties, Malachite is believed to bring harmony and balance to the wearer, fostering a sense of emotional well-being and inner peace. This gemstone is also thought to promote transformation and growth, encouraging personal development and embracing new beginnings. Your style deserves nothing less than sheer opulence, and our Malachite pendant delivers just that. The luxurious combination of vibrant green and sterling silver makes a bold statement that effortlessly transitions from daytime to evening wear. Its versatility allows you to pair it with a variety of outfits, from casual ensembles to sophisticated evening gowns, adding a touch of elegance and flair to any occasion. Infused with a timeless allure, this Malachite pendant serves as a testament to your discerning taste and individuality. Whether a symbolic gift for a loved one or a cherished addition to your personal collection, this splendid piece radiates an aura that transcends time and trends. Let it become a treasured heirloom, passing down its beauty from generation to generation. Invest in the unrivaled elegance of our Malachite pendant and indulge in the symphony of nature's hues captured within its radiant stone. Discover the harmonious amalgamation of sterling silver and lush green hues that elevate your style to extraordinary realms. Escape into a world where beauty meets purpose, and experience the transformative power of this mesmerizing gem.
Approximate total length: 19 mm
Dimensions of stones with silver about: 7 X 11 mm
Specification:
Stunning Malachite Pendant: Small Oval Green Gemstone in 92.5 Sterling Silver – Elevate Your Style
| | |
| --- | --- |
| Silver chain option | pendant only, 16 inch chain, 18 inch chain, 20 incgh chain, 22 inch chain |
| Bail option | small bail, larger bail, bails |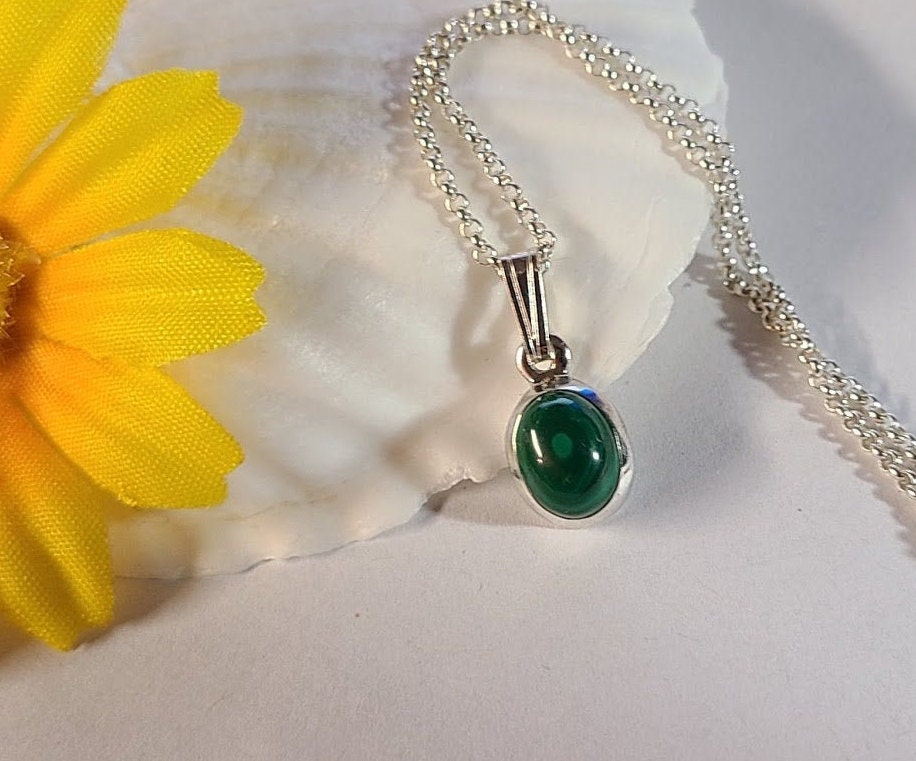 Stunning Malachite Pendant: Small Oval Green Gemstone in 92.5 Sterling Silver – Elevate Your Style