Stunning Black Onyx Bracelet on 92.5 Sterling Silver – Perfect Blend of Style and Elegance
Introducing the stunning Black Onyx Bracelet set on 92.5 Sterling Silver, a true embodiment of elegance and sophistication. Crafted with meticulous precision, this exquisite piece showcases the perfect combination of impeccable design and superior quality. The lustrous black onyx stones, meticulously hand-selected, radiate a mesmerizing aura of power and strength. Set on a 92.5 sterling silver, this bracelet exudes an undeniable allure that captivates onlookers. With its timeless beauty and versatile charm, it effortlessly complements any style, making it a must-have accessory for every fashion-conscious individual. Elevate your ensemble with the allure of the Black Onyx Bracelet set on 92.5 Sterling Silver and unveil a world of style and sophistication.
This dazzling Onyx bracelet will sure to impress you, made with 92.5% silver the quality is of this piece will sure to last a lifetime. Onyx is said to protect the the wearer of evil spirits
CODE: 827
Introducing our exquisite masterpiece, the "Black Onyx Bracelet set on 92.5 Sterling Silver"! Prepare to be mesmerized by the allure and elegance of this stunning accessory that transcends time and fashion trends. Crafted with utmost precision and care, this bracelet is a testament to the skill and artistry of our expert craftsmen. Let the lustrous glow of the 92.5 sterling silver metal ignite your senses as it delicately embraces your wrist, exuding a timeless charm that knows no bounds. At the heart of this enchanting piece lies the captivating black onyx gemstone, known for its distinct mystique and captivating nature. Its deep black hue, accentuated by the brilliance of the sterling silver, draws you into a world of sophistication and refinement. Unleash your inner confidence and embrace the versatility of our bracelet, designed to seamlessly complement any outfit or occasion. Whether you're attending a glamorous soiree or simply seeking a touch of everyday elegance, this accessory effortlessly elevates your style with its understated yet impactful presence. But the allure of our bracelet extends beyond its aesthetic appeal. Explore the realm of holistic healing as the black onyx gemstone is believed to possess powerful properties that promote grounding, protection, and emotional stability. With each gentle touch of the bracelet against your skin, you are reminded of the inner strength and resilience it represents. Indulge in the luxuries of fine craftsmanship and invest in a piece that transcends fleeting trends. You deserve nothing less than the timeless elegance and impeccable quality our bracelet brings to your life. Bold and versatile, this bracelet is a statement of your unique taste and style. Its adjustable design ensures a perfect fit for any wrist size, allowing you to effortlessly showcase the epitome of sophistication. Experience the transformative power of our "Black Onyx Bracelet set on 92.5 Sterling Silver" and enhance your accessory collection with a piece that exudes grace, confidence, and a touch of undeniable mystery. Elevate your style and embrace the essence of timeless beauty today.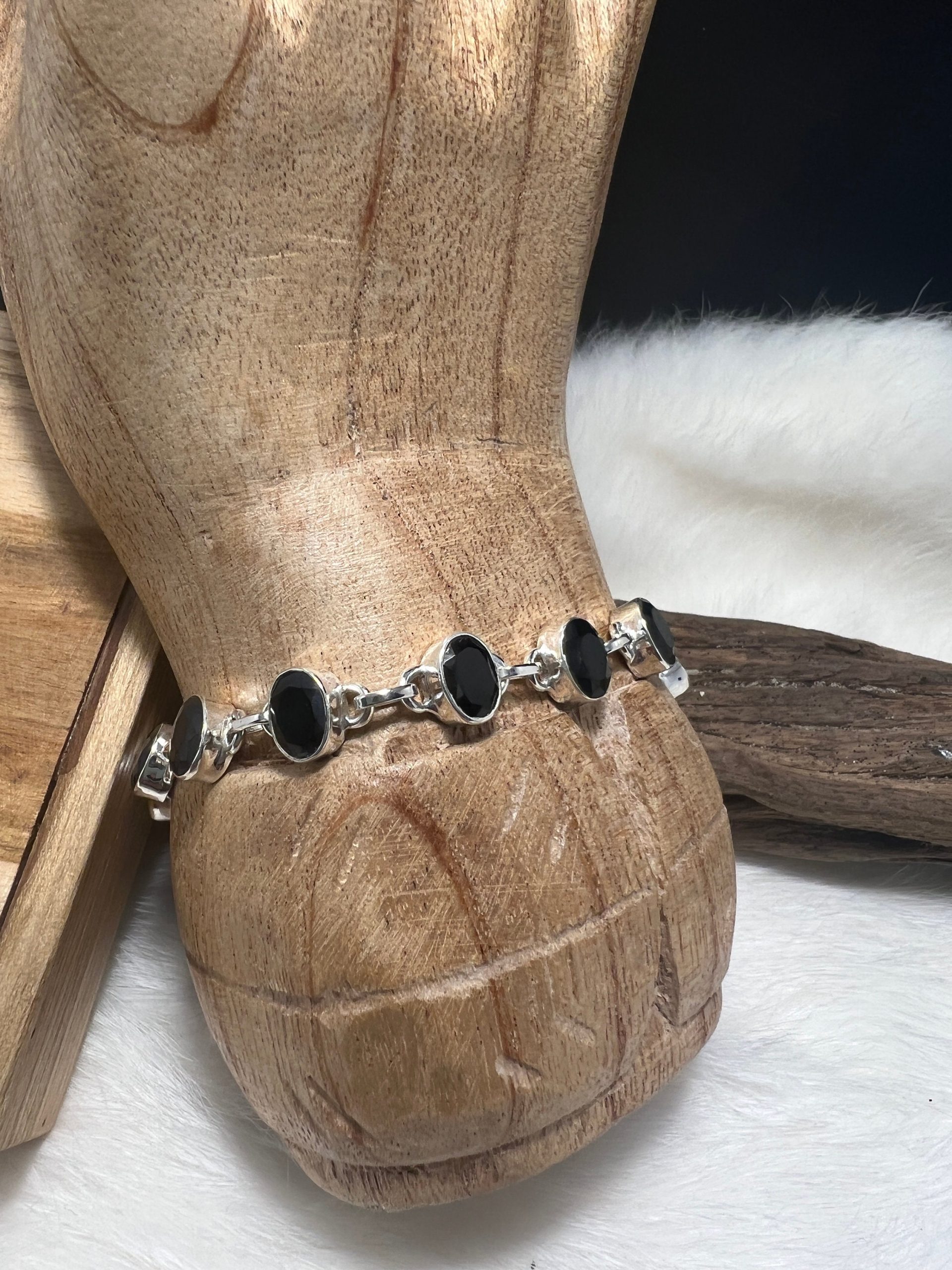 Stunning Black Onyx Bracelet on 92.5 Sterling Silver – Perfect Blend of Style and Elegance