Stunning Pink Onyx Pendant in 92.5 Sterling Silver – Faceted Gemstone
Introducing our mesmerizing Pink Onyx Pendant, a true statement piece that exudes elegance and beauty. Crafted with a faceted gemstone, this pendant is set in exquisite 92.5 sterling silver, ensuring both durability and a stunning shine. Its silver chain option allows for versatile styling, making it perfect for any occasion. Delve into the exceptional and unique qualities of our Pink Onyx Pendant, instantly elevating your style and becoming a timeless addition to your jewelry collection.
Faceted oval pink onyx gemstone pendant set in sterling silver. Sterling silver chain option.
Introducing the captivating and enchanting Pink Onyx Pendant, a true masterpiece in the realm of fine jewelry. This exquisite pendant combines the allure of the delicate pink hue with the timeless elegance of sterling silver, resulting in a piece that radiates both sophistication and grace. Crafted with meticulous attention to detail, this pendant showcases a stunning faceted gemstone that perfectly captures and reflects light, enchanting all who gaze upon it. Each facet, meticulously cut and polished, allows the vibrant pink color to come alive, creating a mesmerizing play of light and shadow. But its beauty goes beyond aesthetics. The Pink Onyx Pendant is encased in 92.5 sterling silver, known for its exceptional durability and glistening appearance. This precious metal not only provides a sturdy foundation for the gemstone but also adds a touch of elegance, enhancing the overall allure of the pendant. What sets this pendant apart is its versatility. Timeless and versatile, it effortlessly transitions from day to night, adding a touch of sophistication to any outfit. Whether you're attending a formal event or simply adding a touch of elegance to your everyday attire, this pendant is the perfect companion. Customization is at the heart of this exceptional piece. Choose from our range of silver chain options to suit your personal style. Whether you prefer a delicate and dainty chain or a statement-making chunky design, we have the perfect match to complete your desired look. Imagine adorning yourself with this breathtaking pendant. Picture the compliments and admiring glances that will follow you everywhere you go. Unleash your inner confidence and elegance, letting this pendant be the reflection of your impeccable taste and discerning style. Indulge yourself or surprise a loved one with a gift that goes beyond ordinary. The Pink Onyx Pendant not only exudes elegance but also carries a deeper meaning. Onyx has been revered for centuries as a symbol of protection and strength. Let this pendant empower you, acting as a reminder of your resilience and ability to overcome any challenge that comes your way. With its captivating beauty and exceptional craftsmanship, the Pink Onyx Pendant is truly a treasure worth cherishing. Elevate your jewelry collection and experience the incomparable value that this remarkable piece brings. Enhance your ensemble, make a statement, and let your inner radiance shine through with the Pink Onyx Pendant. Order now and embark on a journey of timeless elegance.
Length about 30 mm
Stone dimensions about: 11 mm X 15 mm
Specification:
Stunning Pink Onyx Pendant in 92.5 Sterling Silver – Faceted Gemstone
| | |
| --- | --- |
| pendant option | # 1, # 2 |
| silver chain option | pendant only, 16 inch chain, 18 inch chain, 20 inch chain, 22 inch chain |
You may also like…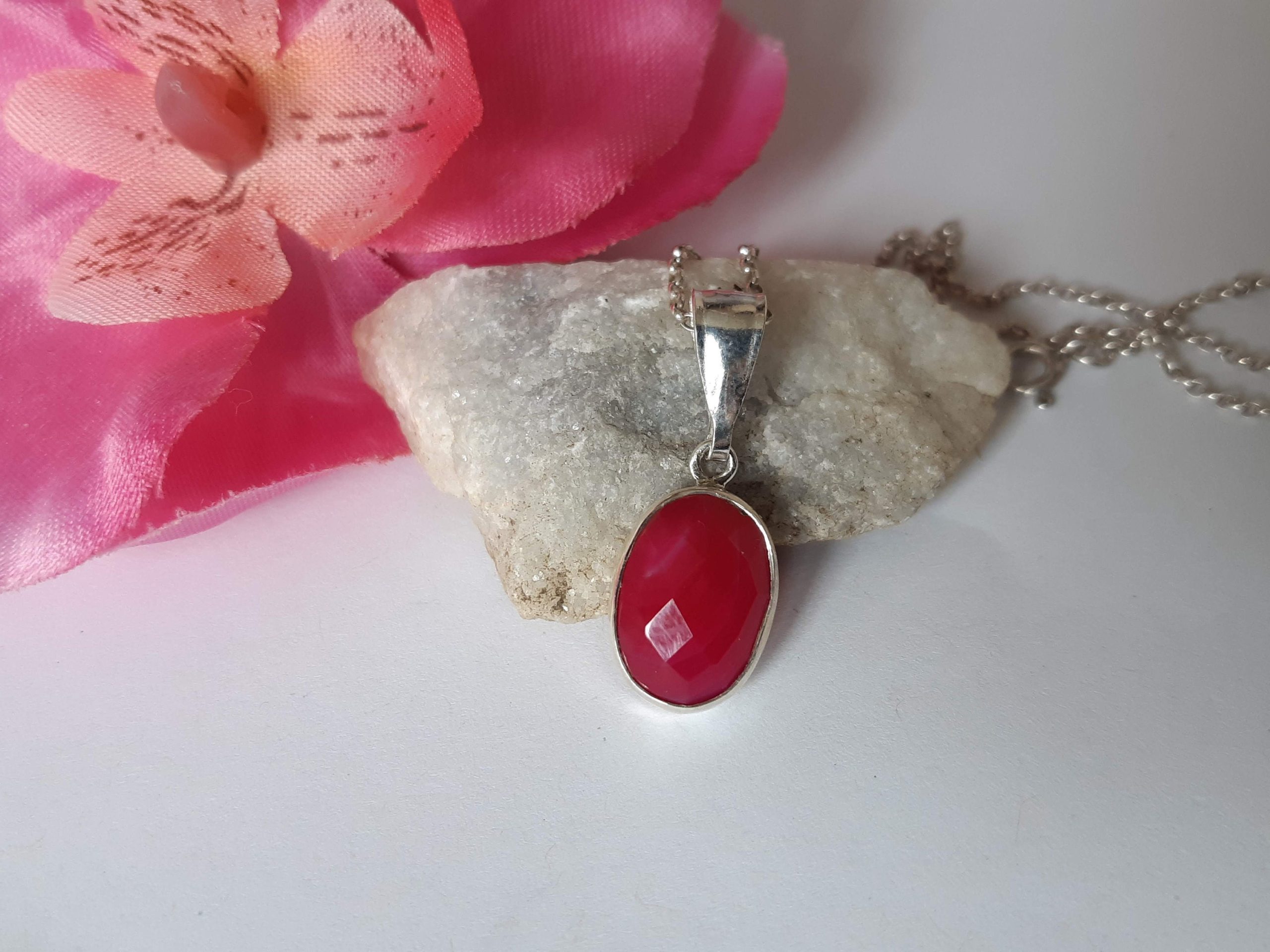 Stunning Pink Onyx Pendant in 92.5 Sterling Silver – Faceted Gemstone