Rainbow Moonstone size 6 ring Set in 92.5 sterling silver
Stand out from the crowd with this stunning Rainbow Moonstone Statement Ring! Crafted from 92.5 Sterling Silver, this ring features a unique rectangular moonstone, set to sparkle and shine with the light of the moon. Adorned with a silver bezel, this ring is approximately 15mm x 11mm in size.
The moonstone is said to bring good fortune and passionate love, and is thought to embody the Divine Feminine. It is recommended to wear the ring during a full moon for maximum potency.
This ring is available in a size 6 (US/Canadian size). Don't miss your chance to add this beautiful ring to your collection!
Approximate stone dimensions: 15 mm x 11 mm and with silver 15 X 19 mm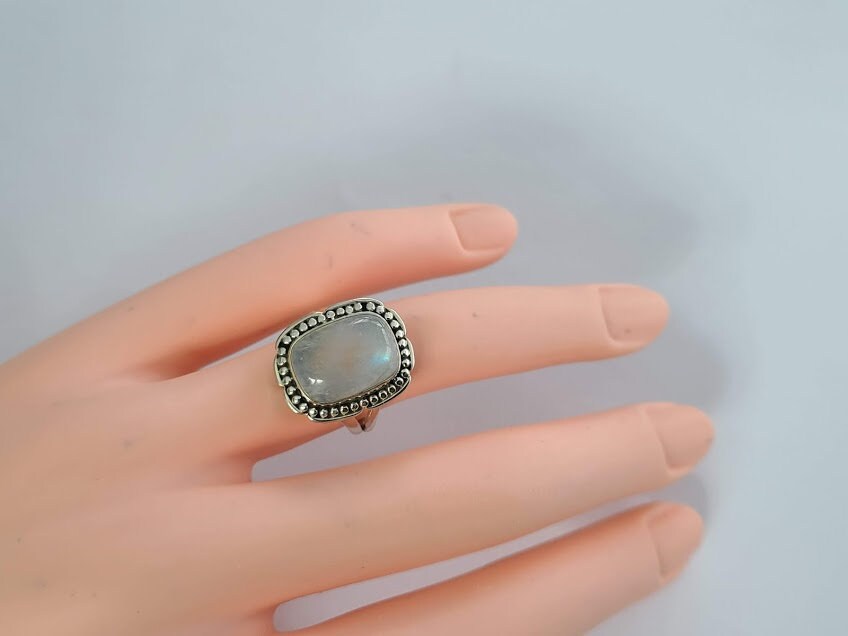 Rainbow Moonstone size 6 ring Set in 92.5 sterling silver