Stunning Raw Amethyst Stud Earrings | 92.5 Sterling Silver | February Birthstone
Introducing our stunning Raw Amethyst Stud Earrings! Made with 92.5 sterling silver and featuring the exquisite February birthstone, these earrings are a must-have for any jewelry lover. Handcrafted with care, the raw amethyst stones add a touch of natural beauty to your overall style. With their sterling silver setting, these earrings exude elegance and are truly timeless. Whether you're looking to treat yourself or surprise someone special, these stud earrings are the perfect choice. Don't miss out on this unique and captivating accessory that combines quality, style, and the birthstone's significance!
Introducing our exquisite Raw Amethyst Stud Earrings, crafted with utmost precision using premium 92.5 sterling silver, and adorned with the enchanting purple beauty of the February birthstone. These earrings are a true embodiment of timeless elegance and celestial charm, promising to capture the hearts of those who seek a touch of sophistication in their daily ensemble. * **Unveil the Raw Beauty:** Each stud earring features a genuine raw amethyst gemstone, carefully chosen for its natural allure and unrefined splendor. Capturing the raw essence of the gemstone not only makes these earrings unique but also grants you a rare piece of nature's artistry. * **Dazzling 92.5 Sterling Silver:** Meticulously handcrafted with the highest quality 92.5 sterling silver, these earrings ensure durability and a lustrous shine that will withstand the test of time. The intricate filigree design delicately accentuates the natural brilliance of the amethyst stone, creating a harmonious symphony of grace and style. * **February Birthstone:** Amethyst, renowned as the birthstone for those born in February, boasts an array of mystical properties and symbolic significance. And its heavenly purple hues symbolize purity, protection, and spiritual growth. Wearing these amethyst earrings will not only make you a vision of elegance but also infuse you with the positive energies associated with this captivating gemstone. * **Versatile Elegance:** Whether you're dressing up for a glamorous soirée, stepping into the boardroom with confidence, or simply indulging in casual elegance, these raw amethyst stud earrings are the perfect accessory for all occasions. Their timeless design effortlessly transitions from day to night, making them an essential addition to your jewelry collection. * **Beyond Aesthetic Appeal:** These earrings offer more than just visual allure and style. The amethyst gemstone is believed to possess numerous holistic properties, including calming energies that promote emotional balance, alleviating stress, and enhancing mental clarity. Wearing these studs allows you to carry the tranquil vibrations of amethyst with you throughout your day. Embrace the allure of these Raw Amethyst Stud Earrings, crafted with impeccable artistry and attention to detail. Indulge in the captivating beauty and radiant energy they exude, a true testament to your refined taste and appreciation for genuine craftsmanship. Elevate your style, embrace your birthstone, and embrace the magnificent value these earrings bring to your life. Order now and be prepared to mesmerize all those who are fortunate enough to witness the ethereal magic of your new treasure.
stone size about 8 mm x 9 mm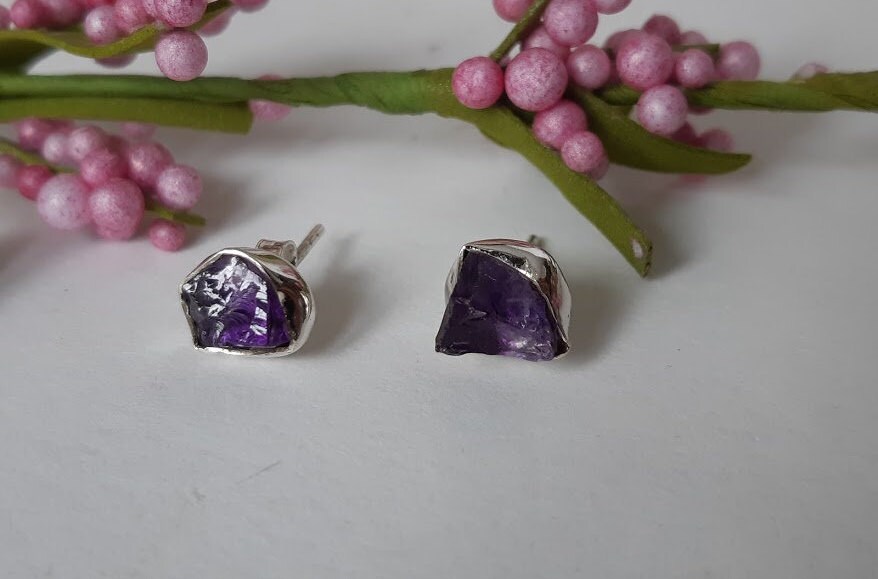 Stunning Raw Amethyst Stud Earrings | 92.5 Sterling Silver | February Birthstone