Handmade Larimar Sterling Silver Ring, Adjustable Size 6 to 7.5
Introducing our captivating handmade WordPress product: the Raw Larimar Ring. Crafted with genuine 92.5 sterling silver, this ring boasts a unique adjustable size, ranging from 6 to 7.5, ensuring a perfect fit for any finger. Immerse yourself in the beauty of the raw larimar gem, renowned for its mesmerizing hues of blue. With its genuine materials and meticulous craftsmanship, this distinctive piece is sure to captivate anyone seeking elegance and individuality. Elevate your style with this one-of-a-kind WordPress accessory that combines quality, versatility, and timeless charm.
Introducing a mesmerizing piece of jewelry that effortlessly blends elegance with nature's own allure. Step into a world of ethereal beauty with our raw larimar ring, a masterpiece of craftsmanship that will leave you awe-inspired. Handmade with love and precision, this exquisite accessory stunningly showcases the mystic beauty of larimar, capturing the essence of the ocean in every delicate detail. Crafted from 92.5 sterling silver, this ring exudes timeless sophistication and guarantees lasting durability. With a size that effortlessly adjusts from 6 to 7.5, it offers the perfect fit for any finger, ensuring both comfort and style. The pure essence of genuine larimar is beautifully showcased in its raw form, allowing the stone's organic intricacies to shine through. No two rings are the same, making each piece an exclusive work of art that celebrates the uniqueness of nature's creations. Allow yourself to be enchanted as you delve deeper into the captivating world of larimar. Mined exclusively in the Dominican Republic, this semi-precious gemstone is renowned for its mesmerizing blue hues, mirroring the serene beauty of the Caribbean Sea. Its tranquil shades of blue, ranging from pale sky to deep ocean, evoke a sense of calm, tranquility, and purity, bringing a touch of serenity to your everyday life. The raw larimar ring truly stands out with its unparalleled beauty, making a bold statement wherever you go. Its timeless design effortlessly transitions from casual to formal, making it the perfect accessory for any occasion. Whether it's a beach-side gathering, an evening soirée, or simply adding a touch of elegance to your daily ensemble, this ring is sure to turn heads and spark conversations. But the allure of our raw larimar ring goes beyond its aesthetic appeal. Larimar is believed to possess a myriad of metaphysical properties that offer benefits to both the mind and body. It is said to promote inner peace, clarity, and calmness, helping to alleviate stress and anxiety while enhancing spiritual growth. Embrace the positive energy it emanates, and allow yourself to feel a deep connection to the soothing powers of the ocean. Invest in more than just a piece of jewelry; revel in the value of owning a true piece of art. Our raw larimar ring not only adds a touch of elegance and serenity to your life but also serves as a beautiful reminder to embrace nature's wonders. It celebrates the harmonious union of sterling silver and the raw beauty of larimar, creating an exquisite piece that is as captivating as it is meaningful. So let yourself be enchanted by the captivating allure of our raw larimar ring. Embrace its natural beauty, its metaphysical benefits, and the joy it brings when adorned on your finger. Experience the serenity, elegance, and sophistication that this exceptional piece of jewelry effortlessly exudes. Shop now and indulge in a truly unique masterpiece that promises to captivate hearts and souls alike.
Stone size about 17 X 10 mm
Weight: 4.85 grams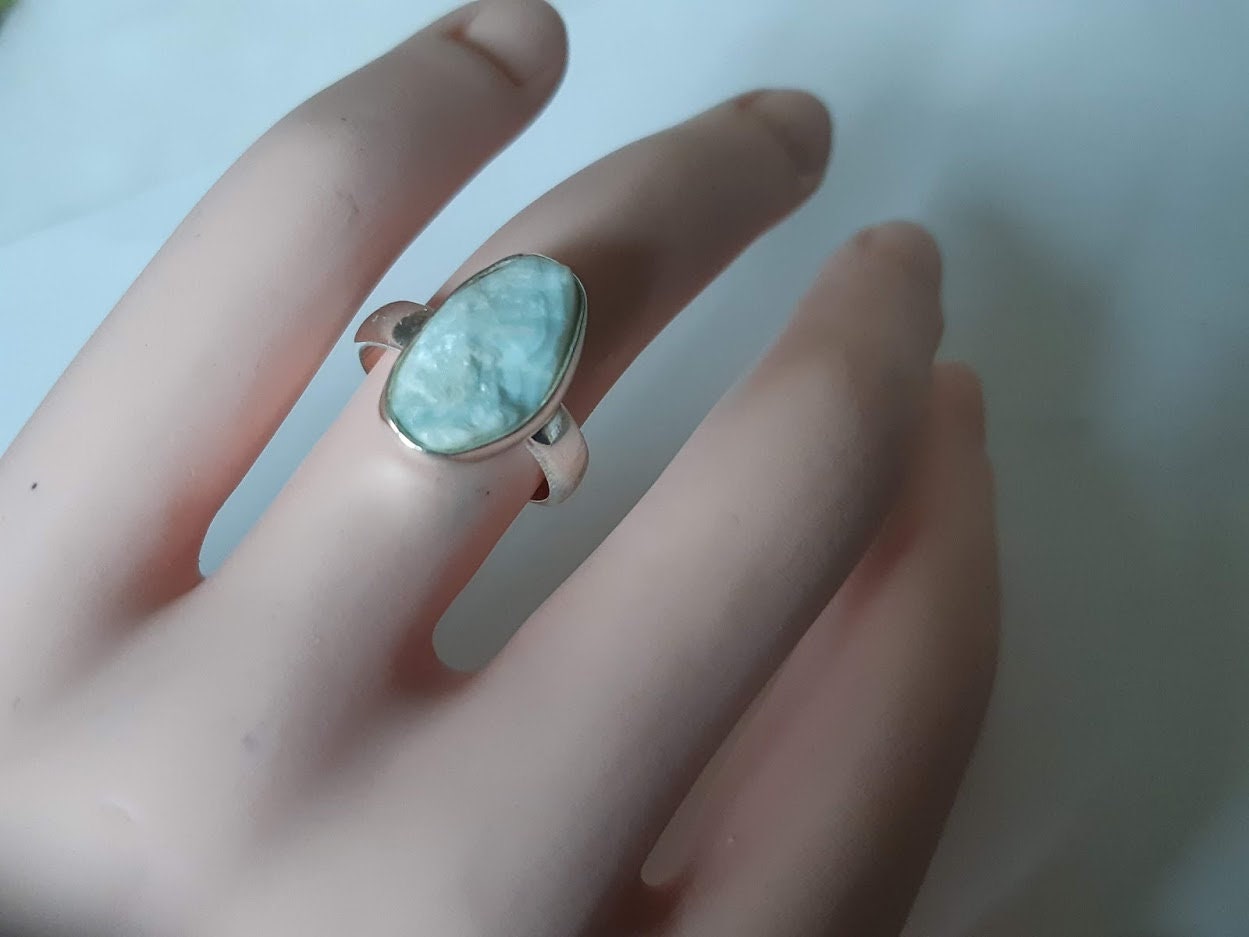 Handmade Larimar Sterling Silver Ring, Adjustable Size 6 to 7.5