Exquisite Handmade Raw Tanzanite Stud Earrings: 92.5 Sterling Silver Beauty
Introducing the exquisite Raw Tanzanite Stud Earrings crafted with utmost precision. These stunning earrings are made from 92.5 sterling silver and showcase the alluring beauty of raw tanzanite gemstones. Handmade with meticulous attention to detail, these earrings offer a blend of elegance and uniqueness. With their captivating design, they effortlessly add a touch of glamour to any outfit. The raw tanzanite stones, renowned for their mesmerizing and vibrant hue, make these earrings a true standout. Elevate your style and embrace the distinctiveness of these exceptional earrings.
Introducing our exquisite Raw Tanzanite Stud Earrings, a mesmerizing fusion of elegance and charm that will leave you breathless. Handcrafted with love, these dazzling earrings are a true testament to our passion for perfection. Made with 92.5 sterling silver, these studs boast a timeless appeal that effortlessly complements any outfit. The raw tanzanite gemstones, carefully selected for their immaculate beauty, steal the spotlight with their distinct violet-blue hue. Prepare to be captivated as the light dances upon the gemstones, creating a celestial glow that illuminates your every move. But what sets these earrings apart is their artisanal craftsmanship. Meticulously handmade by our skilled artisans, each pair is a unique work of art that bears the mark of true mastery. The attention to detail is evident in every facet, ensuring a flawless finish that exudes sophistication. Embracing the allure of imperfection, these raw tanzanite earrings celebrate the natural beauty of the gemstones. With their organic shapes and textures, they tell a story of untamed elegance, making them a remarkable addition to any jewelry collection. But it's not just about appearances. These stud earrings bring more than just style to the table. We believe in the power of gemstone therapy, and tanzanite is renowned for its metaphysical properties. It is said to enhance spiritual insight, promote creativity, and bring emotional balance into one's life. With these earrings, you're not just adorning yourself with beauty, but inviting positive energy into your world. Our commitment to quality, authenticity, and customer satisfaction drives us to offer you a truly remarkable piece of jewelry. Each pair of earrings undergoes rigorous quality checks, ensuring that only the best makes its way to your ears. We understand the value of trust when it comes to your precious accessories, and we strive to exceed your expectations. Whether you're treating yourself or searching for the perfect gift, our Raw Tanzanite Stud Earrings are an investment in timeless elegance. Embrace the allure of handmade craftsmanship, the brilliance of sterling silver, and the enchantment of raw tanzanite. Let these earrings be a testament to your unique style and let their ethereal beauty become a part of your story. Experience the magic of these exquisite earrings; embrace the enchantment of raw tanzanite, and adorn yourself with the radiant glow of true craftsmanship. Order your pair of Raw Tanzanite Stud Earrings today and let your style soar to new heights.
Size about 12 mm X 11 mm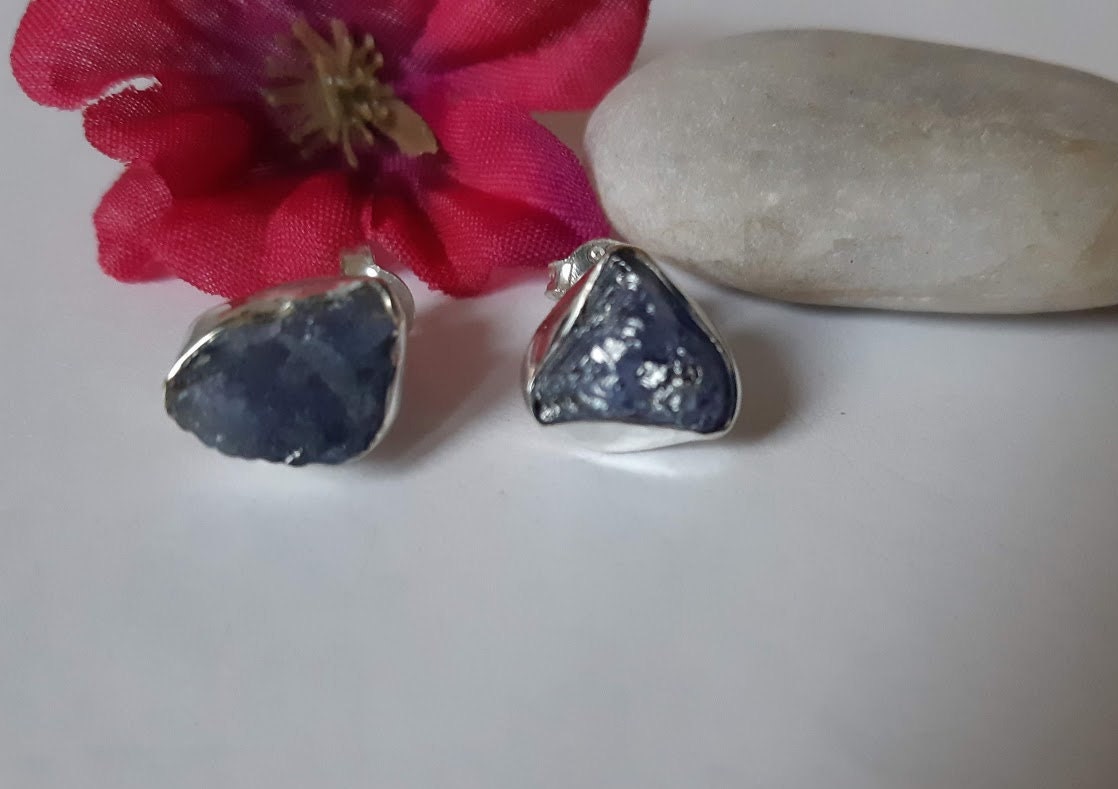 Exquisite Handmade Raw Tanzanite Stud Earrings: 92.5 Sterling Silver Beauty