Stunning Rose Quartz Marquise Earrings in 92.5 Sterling Silver | Shop Now!
Introducing our captivating WordPress product: Rose quartz earrings, with a mesmerizing marquise shape elegantly crafted from 92.5 sterling silver. These exquisite earrings embody both beauty and sophistication, making them the ideal accessory for any occasion. Featuring the alluring rose quartz gemstone, known for its gentle and loving energy, these earrings radiate a sense of positivity and harmony. The marquise shape adds a touch of uniqueness, capturing attention with its elegant contour. Meticulously handcrafted with high-quality 92.5 sterling silver, these earrings ensure durability and timeless elegance. With their versatile design, they effortlessly complement any outfit, whether it's a casual day out or a glamorous evening event. Elevate your style with these striking rose quartz earrings, and experience the essence of beauty and grace.
Introducing Rose Quartz Earrings: A Marriage of Elegance and Grace
Indulge your senses with the mesmerizing allure of our Rose Quartz Earrings, crafted with utmost precision to add a touch of ethereal beauty to your every ensemble. These exquisite marquise-shaped earrings are meticulously handcrafted using 92.5 sterling silver, ensuring longevity, durability, and an unparalleled level of elegance.
A Symbol of Timeless Beauty
Exuding Grace: The marquise shape, with its elongated silhouette and elegant curves, captures attention effortlessly, framing your face with a sense of refinement and grace. These earrings delicately draw the eye, adding a certain ethereal quality to your overall look.
Mystical Rose Quartz: To truly elevate these earrings, we have carefully chosen rose quartz as the centerpiece. Renowned for its soothing pink hue, this gemstone is believed to radiate love, compassion, and inner harmony. Enveloped by the sterling silver setting, the rose quartz effortlessly exudes captivating charm, making a profound statement of timeless beauty.
Elevating Your Style
Versatility at its Finest: Whether you're attending a gala event or enjoying a cozy brunch with friends, these earrings effortlessly adapt to any occasion. Their understated elegance complements any outfit, adding a touch of chic sophistication that effortlessly enhances your personal style.
All-Day Comfort: We understand that wearing jewelry should never be a burden, which is why these earrings are designed with your comfort in mind. The lightweight sterling silver setting ensures a comfortable fit, allowing you to wear them all day with ease.
Unveiling the True Value
Unparalleled Craftsmanship: Our team of skilled artisans meticulously handcrafts each pair of earrings, paying attention to every intricate detail. From the delicate sterling silver framework to the expertly cut rose quartz gemstones, each element is thoughtfully brought together to create a masterpiece that surpasses all expectations.
Longevity and Durability: Crafted from 92.5 sterling silver, these earrings are not only beautiful but also built to withstand the test of time. This high-quality silver ensures that your earrings remain as dazzling and captivating as the first day you wore them.
A Versatile Gift: Looking for that perfect gift to celebrate a special occasion or express your love and appreciation? These rose quartz earrings make an extraordinary present. Their timeless beauty, combined with their versatile design, ensures they will be cherished for years to come.
Embrace the elegance and enchantment that our Rose Quartz Earrings bring to your life. With their graceful design, mystical allure, and unrivaled craftsmanship, they are more than just a pair of earrings – they are an embodiment of timeless beauty.
size without hooks: 12 mm X 6 mm
Length about 27 mm
Specification:
Stunning Rose Quartz Marquise Earrings in 92.5 Sterling Silver | Shop Now!
| | |
| --- | --- |
| ear hook option | Wire ear hook, lever book |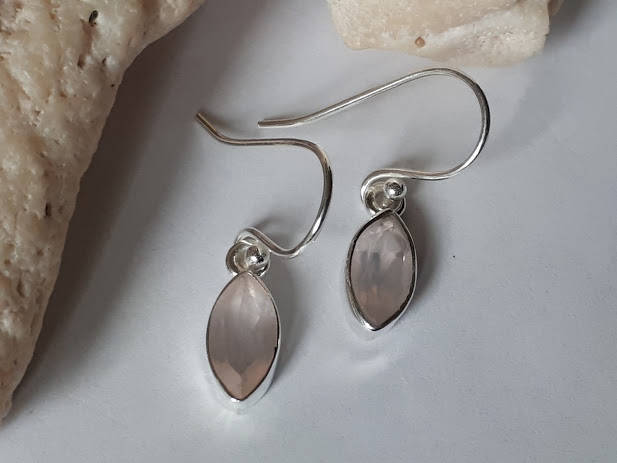 Stunning Rose Quartz Marquise Earrings in 92.5 Sterling Silver | Shop Now!