Exquisite Rutilated Quartz Ring in 92.5 Sterling Silver: Elevate Your Style & Spirituality!
Introducing our stunning Rutilated Quartz Ring, crafted with the finest 92.5 sterling silver. This exquisite piece showcases the mesmerizing beauty of rutilated quartz, making it a must-have for any jewelry collection. With its distinctive features, unparalleled elegance, and superior craftsmanship, this ring is sure to turn heads wherever you go. Combining timeless style with exceptional quality, it effortlessly exudes luxury and sophistication. Enhance your look with the radiant glow of this extraordinary gemstone and experience the extraordinary allure it brings. Elevate your style and make a statement with our Rutilated Quartz Ring, a true gem to treasure for a lifetime.
Introducing our exquisite Rutilated Quartz Ring, a true gem that encapsulates elegance and sophistication. Meticulously crafted with utmost precision, this mesmerizing piece is set in 92.5 sterling silver, combining timeless beauty with exceptional quality. Elevating any outfit with its undeniable allure, this enchanting ring showcases the captivating beauty of rutilated quartz. Each stone boasts intricate needle-like inclusions, meticulously threaded through the crystal, creating a mesmerizing spectacle of nature's artistry. The golden, copper, or silver rutiles delicately suspended within the quartz, seem to dance effortlessly, as if whispering secrets only known to the universe. Our master craftsmen have expertly designed this ring to accentuate the unique features of rutilated quartz. The translucent gem is gently embraced by a Sterling silver setting, brilliantly enhancing its luminosity and allure. The sleek and minimalistic design allows the gemstone to take center stage, effortlessly capturing the attention of all who lay eyes upon it. But what sets this exquisite ring apart from the rest? Let us unravel the magic woven within its very fibers: 1. **Unparalleled Radiance**: Enveloped in 92.5 sterling silver, this ring epitomizes brilliance, creating a captivating play of light that dances across the wearer's finger, casting an enchanting spell wherever it goes. 2. **A Token of Individuality**: No two rutilated quartz stones are alike, making each ring a unique masterpiece. Wearers can revel in the knowledge that they possess an exclusive work of art, handcrafted by Mother Nature herself. 3. **Empowering Energy**: Rutilated quartz is believed to possess powerful metaphysical properties. Adorn yourself with this stunning ring and experience its reputed ability to instill clarity, enhance intuition, and increase self-confidence. Let the magical vibrations of this gemstone guide you towards your truest potential. 4. **Enduring Craftsmanship**: Created with the utmost care and precision, this ring is built to last. The combination of sterling silver and rutilated quartz ensures longevity, allowing you to cherish this remarkable piece for years to come. Indulge in the splendor of our Rutilated Quartz Ring, a timeless testament to nature's artistry and human ingenuity. Whether it's a cherished gift for a loved one or a well-deserved treat for yourself, this unparalleled piece guarantees to mesmerize hearts and minds alike. Embark on a journey towards eternal elegance, one gleaming rutile at a time.
Stone size about 22 mm X 23 mm
Weight: 8.69 grams
Specification:
Exquisite Rutilated Quartz Ring in 92.5 Sterling Silver: Elevate Your Style & Spirituality!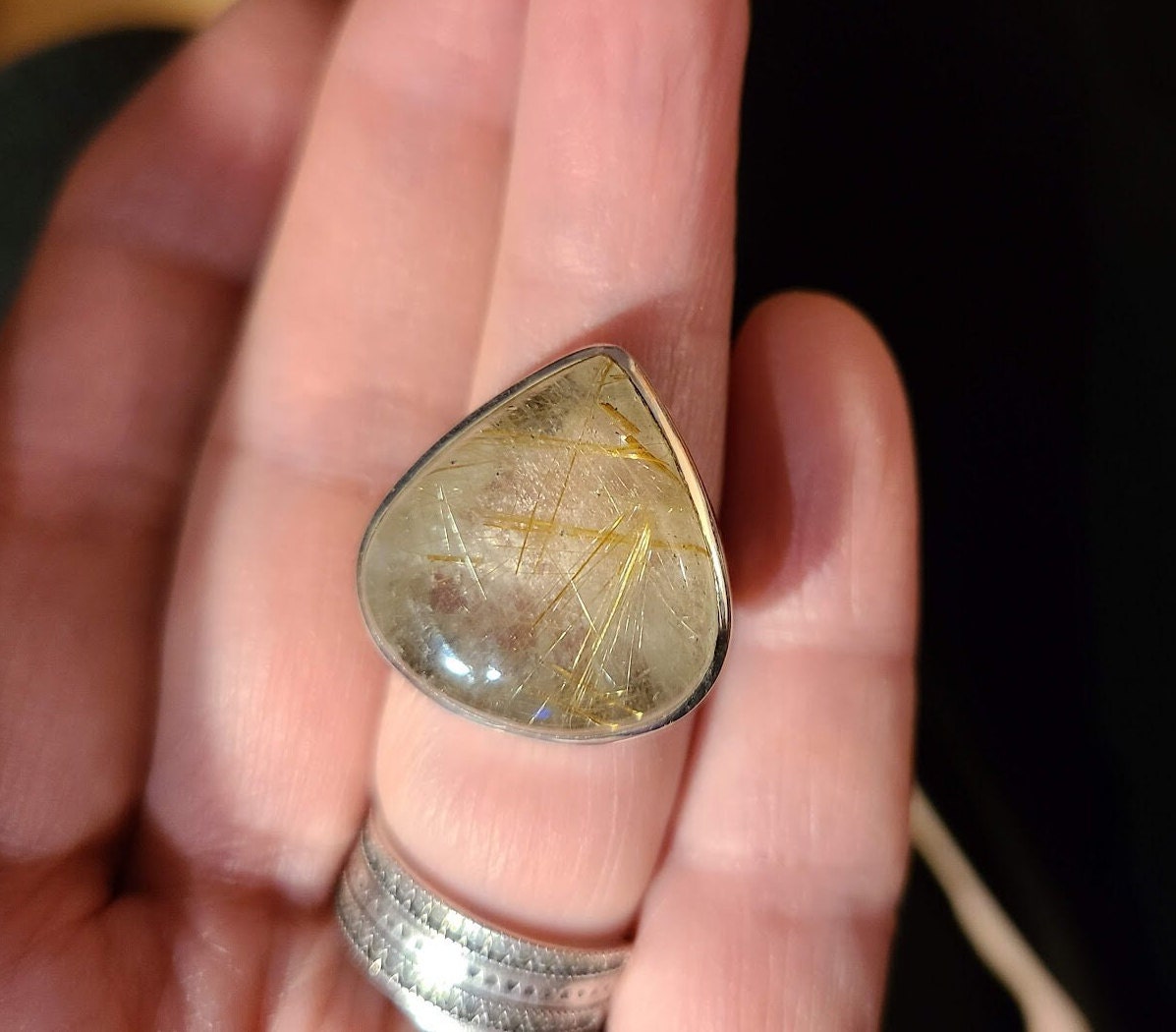 Exquisite Rutilated Quartz Ring in 92.5 Sterling Silver: Elevate Your Style & Spirituality!