Stunning Shiva Eye Pendant: Handcrafted in 92.5 Sterling Silver for a Timeless Look
Introducing the striking Silver Shiva Eye Pendant set in exquisite 92.5 sterling silver. Crafted with impeccable attention to detail, this captivating piece is truly one-of-a-kind. The pendant showcases the mesmerizing Shiva Eye stone, renowned for its spiritual significance and captivating beauty. With its unique spiral pattern and enchanting blue hue, this pendant instantly catches the eye. Meticulously set in premium quality 92.5 sterling silver, this pendant not only exudes elegance but also ensures durability. Whether as a statement accessory or a thoughtful gift, this pendant is guaranteed to turn heads and leave a lasting impression. Elevate your style and embrace the essence of spirituality with the Silver Shiva Eye Pendant – a timeless piece that effortlessly combines craftsmanship, symbolism, and elegance.
Introducing the exquisite "Silver Shiva Eye Pendant Set in 92.5 Sterling Silver" – a mesmerizing piece that effortlessly combines timeless elegance with spiritual allure. Expertly crafted to perfection, this pendant set is a true embodiment of sophistication and celestial energy, guaranteed to capture the hearts of those who seek both style and meaningful symbolism. Crafted from the finest 92.5 sterling silver, this pendant set showcases a beautifully handcrafted setting that surrounds the coveted Shiva Eye gemstone with utmost precision and artistry. The magnificent Shiva Eye, also known as the Third Eye or the Eye of Shiva, bears deep-rooted significance in Indian mythology, symbolizing divine knowledge, consciousness, and protection. Exuding an aura of mysticism, this exquisite gemstone is believed to bestow the wearer with clarity, intuition, and spiritual guidance. The attention to detail in this pendant set is truly remarkable. The intricately designed sterling silver frame cradles the Shiva Eye, accentuating its unique natural patterns and captivating hues. The gentle curves and delicate lines of the pendant exhibit a perfect harmony between contemporary aesthetics and timeless charm. Paired with an exquisite sterling silver chain, this set is designed to effortlessly grace your neckline, adding subtle elegance to any outfit. As if its captivating design wasn't enough, this pendant set offers remarkable benefits that make it even more enticing. Its indisputable quality, handpicked gemstone, and durable 92.5 sterling silver make this a lasting investment, ensuring that this stunning piece of jewelry will be cherished for generations. The inherent properties of the Shiva Eye gemstone are said to promote balance, emotional healing, and protection, making this pendant set a perfect companion for those seeking harmony in their lives. The value this "Silver Shiva Eye Pendant Set in 92.5 Sterling Silver" brings extends far beyond its aesthetic appeal. It embodies a meaningful narrative, combining ancient symbolism and contemporary craftsmanship to create a timeless treasure that will effortlessly elevate your style and elevate your spirit. This pendant set is an ode to those who seek to embrace their individuality while embracing the mystical forces that surround us, offering both style and substance in one captivating piece. Embark on a journey of self-discovery and spiritual enlightenment with this remarkable pendant set. Whether it's a heartfelt gift for a loved one or a personal indulgence, it is bound to leave a lasting impression. Channel your inner divinity and unveil the beauty within with this extraordinary "Silver Shiva Eye Pendant Set in 92.5 Sterling Silver".
You may also like…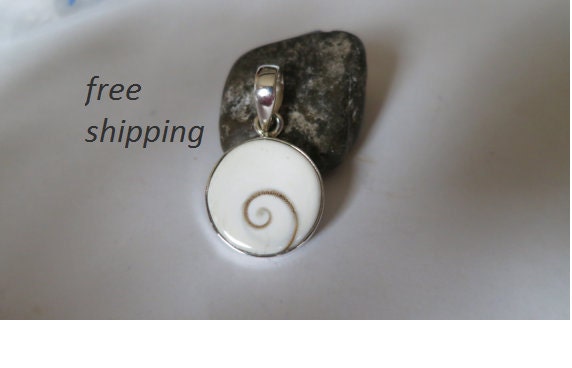 Stunning Shiva Eye Pendant: Handcrafted in 92.5 Sterling Silver for a Timeless Look