Stunning Small Emerald Ring Faceted Gem on 92.5 Sterling Silver Band
Introducing our stunning Small Emerald Ring, available in sizes 6 and 7.5 (US/Canadian sizes). This exquisite piece boasts a dazzling faceted emerald, carefully set in 92.5 sterling silver. Its mesmerizing green hue will captivate all eyes, while the high-quality silver ensures both durability and elegance. Perfect for adding a touch of sophistication to any look, this ring is a true statement piece. Don't miss out on the opportunity to own this unique and exquisite emerald ring.
Introducing our exquisite Small Emerald Ring, a true marvel of elegance and sophistication. This captivating piece of jewelry is designed to adorn the fingers of those who appreciate the beauty of simplicity, while still craving a touch of natural brilliance. Crafted with utmost care, this emerald ring available size 7.5, to accommodate a range of preferences, ensuring a perfect fit for every wearer. Expertly faceted, the emerald possesses an enchanting allure, catching the light with every movement and mesmerizing all who lay eyes upon it. But what truly sets this ring apart is its exquisite setting. Made with 92.5 sterling silver, a metal renowned for its exceptional durability and stunning aesthetic, it forms the perfect union with the captivating gemstone. The cool silver hue elegantly complements the vibrant green of the emerald, creating a harmonious symphony of colors that cannot go unnoticed. Benefiting from the timeless appeal of silver, this ring blends seamlessly with any wardrobe, effortlessly elevating both casual and formal ensembles. Its versatility knows no bounds, allowing you to wear it with confidence on any occasion, be it a glamorous soirée or a simple coffee outing with friends. This Small Emerald Ring is not just a mere accessory; it holds a profound value that reaches far beyond its physical beauty. Emeralds symbolize wisdom, growth, and love, and have been treasured throughout history for their spiritual and healing properties. Wearing this mesmerizing gemstone can bring newfound balance, harmony, and a sense of renewal to your life. Indulge yourself or surprise a loved one with this exceptional piece of jewelry, embodying the essence of timeless elegance. Its allure is irresistible, drawing attention from all directions, and its quality craftsmanship guarantees its ability to be cherished for generations to come. Experience the enchantment of this Small Emerald Ring and embark on a journey of elegance and grace. Let its captivating beauty be a testament to your unique style, while its symbolic meaning adds an extra layer of significance to your personal journey. Don't miss the opportunity to own a treasure that transcends fashion trends and stands the test of time.
Product Details:
Material: 92.5 sterling silver
Gemstone: Small faceted emerald
Sizes available: 7.5 (US/Canadian sizes)
Diameter of stone with silver about 5 mm
Specification:
Stunning Small Emerald Ring Faceted Gem on 92.5 Sterling Silver Band
| | |
| --- | --- |
| Ring size | 6, 6 3/4, 7 1/2 |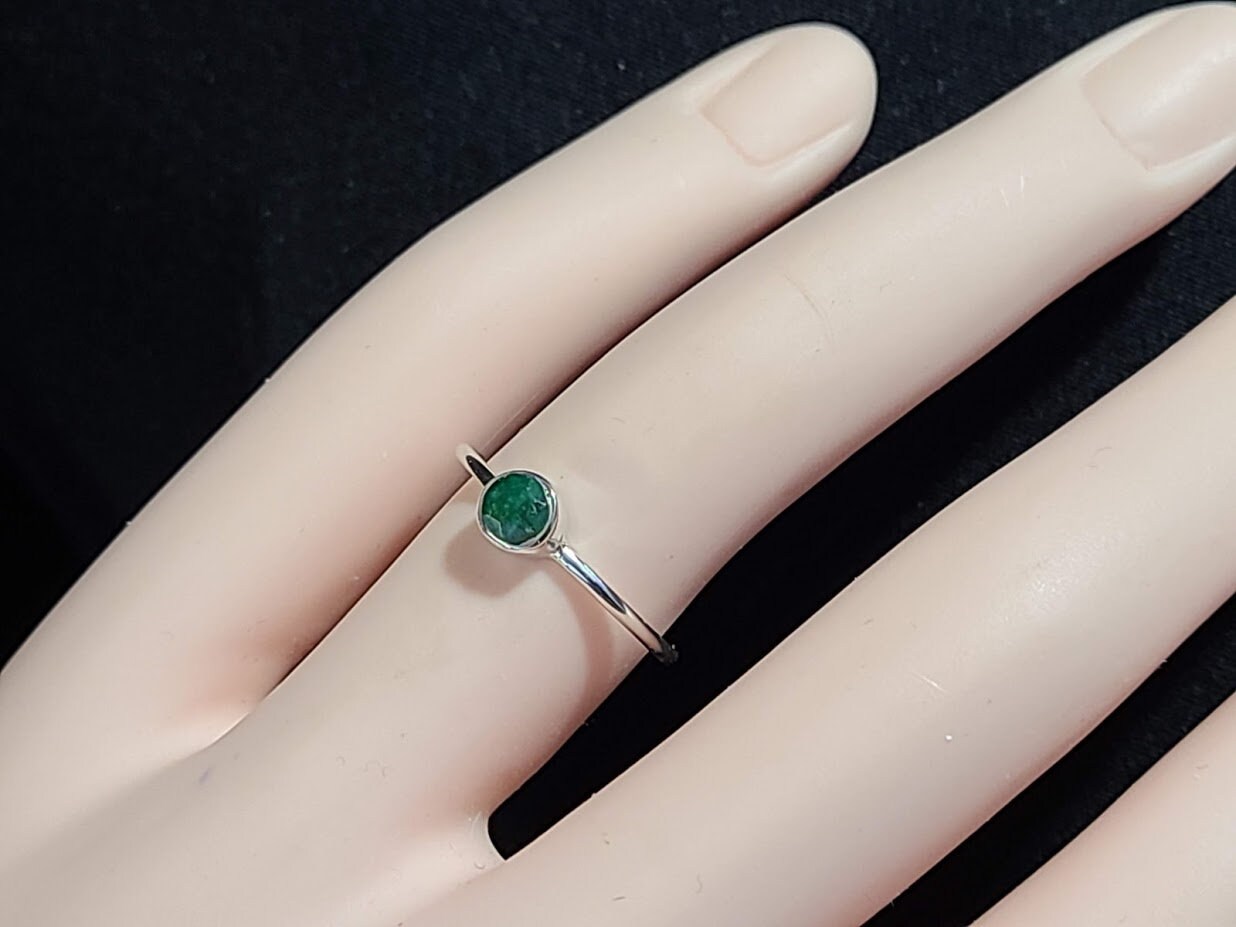 Stunning Small Emerald Ring Faceted Gem on 92.5 Sterling Silver Band