Stunning Spiny Oyster Turquoise Earrings in 92.5 Sterling Silver
Experience elegance and grace with our stunning "Spiny Oyster Turquoise Earring set in 92.5 sterling silver." This exquisite piece combines the exquisite allure of spiny oyster and turquoise with the timeless beauty of sterling silver. Crafted with utmost precision, these earrings boast a captivating design that effortlessly catches the eye. The high-quality 92.5 sterling silver setting ensures durability and longevity, making these earrings a versatile addition to your jewelry collection. The vibrant spiny oyster and turquoise stones add a pop of color, creating a bold and unique statement piece that elevates any outfit. Not only do these earrings possess striking visual appeal, but their lightweight construction ensures comfort throughout the day. Exuding a sense of sophistication, this earring set complements any occasion, making it a versatile choice for both formal events and casual settings. Designed to be a perfect gift or personal indulgence, these earrings embody style, elegance, and charm. With their exceptional craftsmanship and standout qualities, our "Spiny Oyster Turquoise Earring set in 92.5 sterling silver" is a must-have accessory that effortlessly accentuates your individuality and celebrates your refined taste.
This beautiful Spiny Oyster Turquoise Pendant is set in 92.5% Sterling Silver and is hand made by are silversmith in India.
The spiny Oyster gemstone is a colorful shell that comes from the oyster species "Spondylus varius" , as the name implies, spiny oyster are covered with menacing spines. Spiny oyster shells are unique, beautiful and also difficult-to-harvest. Typically found along the coast of North Carolina all the way down the waters near brazil. Treasured by many because of it's beautiful colors such as red, pink, brown, yellow, orange, purple and white.
Spiny Oyster Shell Turquoise holds a special meaning for the First Nations. Believed metaphysical properties of the Spiny Oyster Turquoise stone are similar in nature to their proven Physical benefits By aiding the wearer in purifying their intentions, they help set the stage for dispelling unnecessary stress and "clearing the air" so the focus can remain on the present moment and all it entails.
Dimensions: 28.4mm length by 12.6mm width
Code: SP-28
Specification:
Stunning Spiny Oyster Turquoise Earrings in 92.5 Sterling Silver
| | |
| --- | --- |
| Weight | 500 kg |
| Dimensions | 60 × 60 × 20 cm |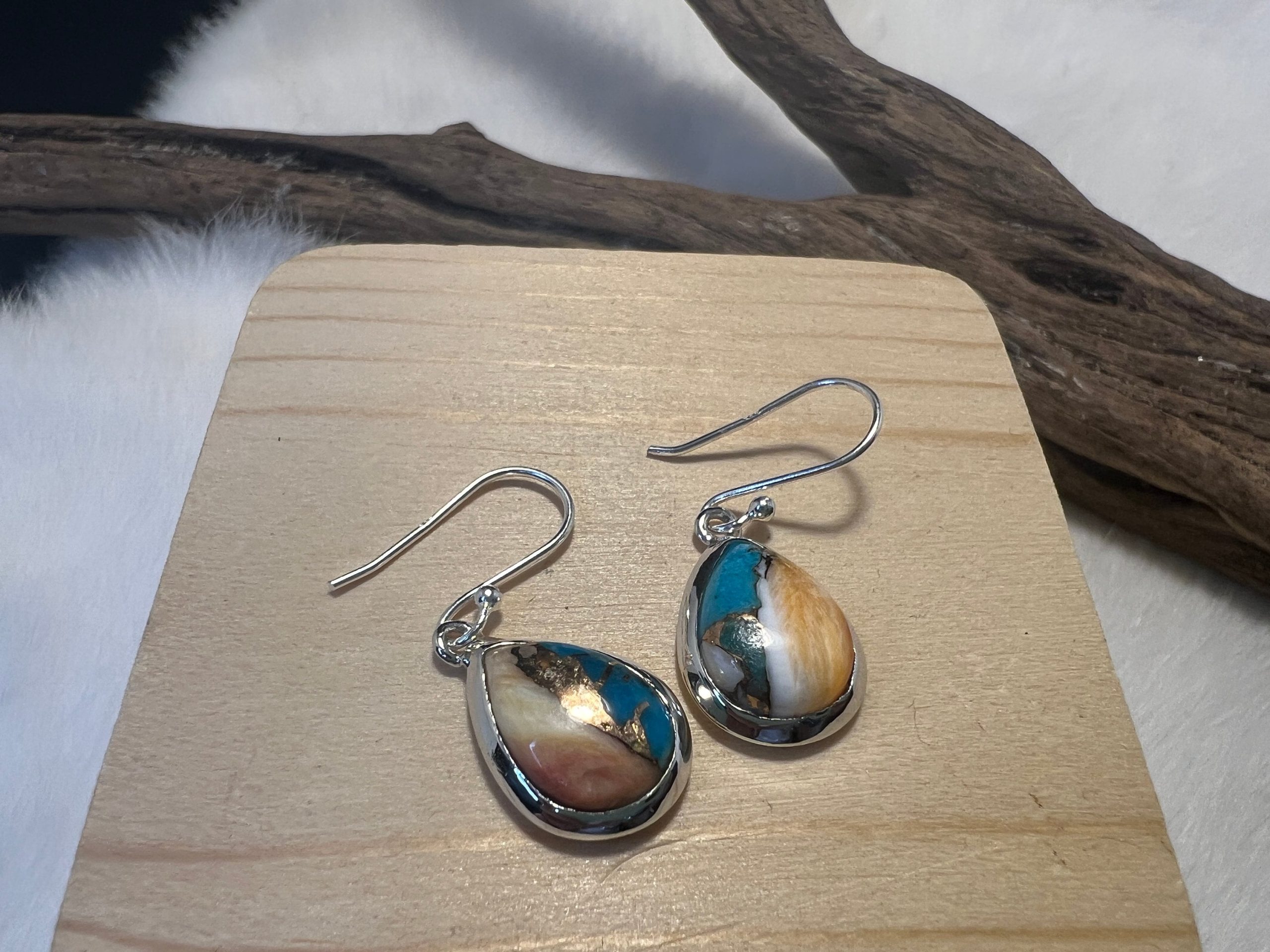 Stunning Spiny Oyster Turquoise Earrings in 92.5 Sterling Silver