Stunning Spiny Oyster Turquoise Pendant | 92.5 Sterling Silver Beauty
Introducing the mesmerizing Spiny Oyster Turquoise Pendant, a true masterpiece set in 92.5 sterling silver. This exquisite piece effortlessly combines luxury and elegance, making it a must-have for any jewelry enthusiast. Its vibrant turquoise hue adds a pop of color to any outfit, while the intricate silver setting highlights the pendant's artistry. Crafted from high-quality materials, this pendant boasts exceptional durability and timeless beauty. Its carefully sourced spiny oyster turquoise perfectly captures nature's whimsical charm, ensuring each piece is truly unique. The use of premium sterling silver enhances its longevity and provides a sophisticated touch. Beyond its stunning aesthetics, this pendant offers versatility for any occasion. Whether you're attending a formal event or a casual gathering, this accessory effortlessly elevates your style, making a bold statement about your refined taste. Indulge in the allure of the Spiny Oyster Turquoise Pendant, a true testament to elegance and craftsmanship. Order now and experience the pinnacle of sophistication and beauty that will undoubtedly become a cherished addition to your jewelry collection.
Introducing our exquisite *Spiny Oyster Turquoise Pendant set in 92.5 sterling silver* – a wearable masterpiece that exudes timeless beauty and elegance. Handcrafted with precision and love, this pendant showcases the perfect blend of vibrant spiny oyster shell and mesmerizing turquoise gemstone. With unparalleled attention to detail, the intricate design of this pendant is truly captivating. The gentle curves and delicate patterns of the sterling silver setting enhance the natural allure, creating a stunning piece of art. Be prepared to receive compliments as this pendant effortlessly adds a touch of sophistication to any outfit. But it's not just about the aesthetic appeal – our Spiny Oyster Turquoise Pendant holds significant value too. This extraordinary gemstone combination symbolizes protection, well-being, and harmony. Its unique properties connect with your inner energy, promoting balance and fostering a sense of calmness in your everyday life. With a sterling silver chain included, you can proudly showcase this pendant as a versatile fashion statement or gift it to a loved one to signify the profound bond you share. Elevate your style and embrace the beauty of nature with our remarkable Spiny Oyster Turquoise Pendant set in 92.5 sterling silver. Experience the timeless allure today!
37.8mm length
20.6mm width
NOTE: our gemstone jewelry are made from real natural stones, the jewelry item shipped may differ from the one pictured, please contact us if you wish us to send a picture of the one that will be shipped to you.
Specification:
Stunning Spiny Oyster Turquoise Pendant | 92.5 Sterling Silver Beauty
| | |
| --- | --- |
| Weight | 200 kg |
| Dimensions | 60 × 60 × 20 cm |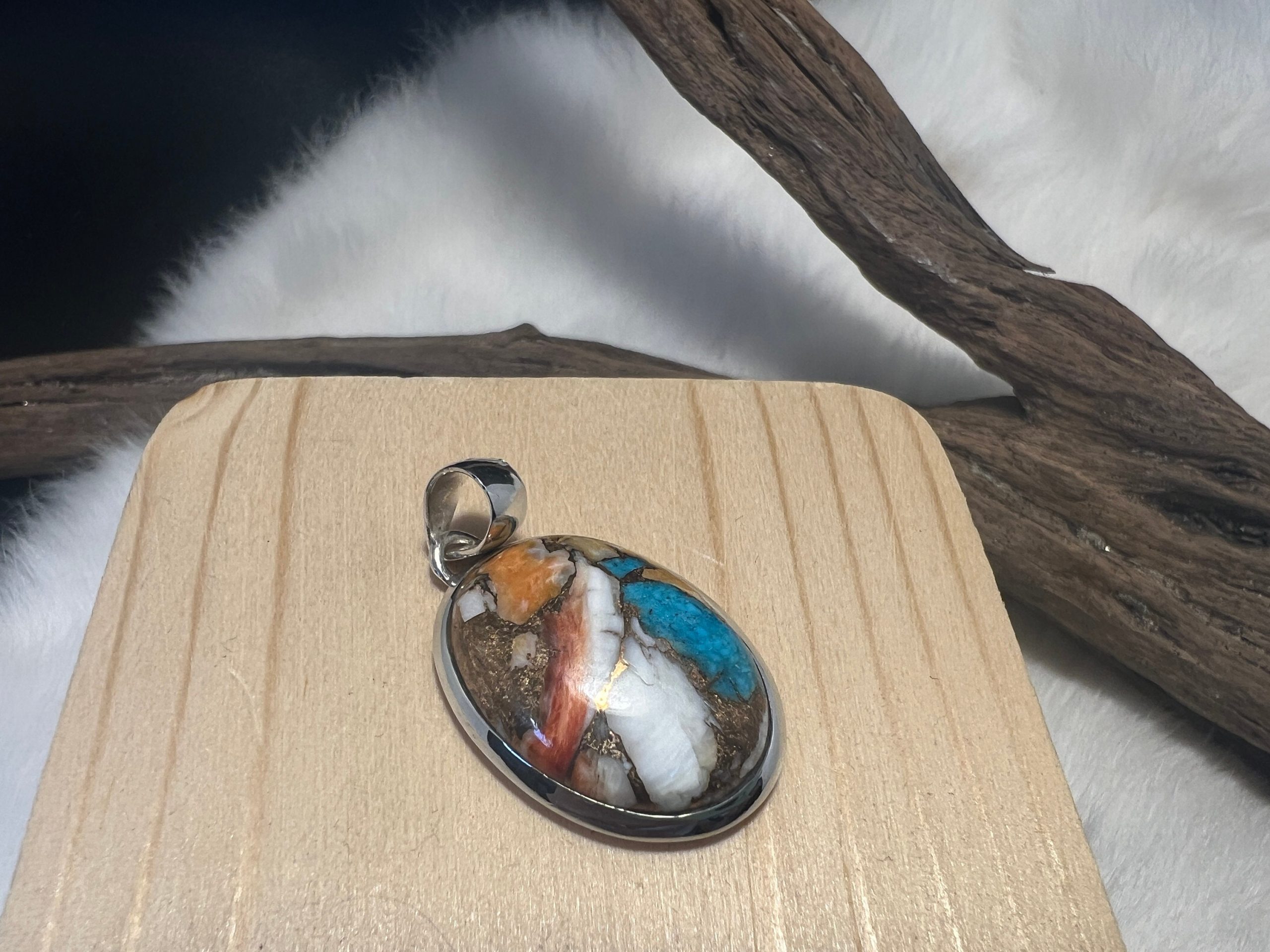 Stunning Spiny Oyster Turquoise Pendant | 92.5 Sterling Silver Beauty