Stunning Tiger Eye Pendant in 92.5 Sterling Silver – Exquisite Oval Jewelry Piece
Introducing our exquisite Tiger Eye Pendant, an oval gemstone set in high-quality 92.5 sterling silver. This captivating piece is sure to catch the eye of any jewelry enthusiast. With its unique charm and allure, the Tiger Eye Pendant embodies elegance and sophistication. Crafted with utmost precision, its expertly cut oval shape accentuates the mesmerizing colors and patterns of the tiger eye gemstone. The pendant's sterling silver setting not only adds a touch of luxury but also ensures durability and long-lasting beauty. An exceptional accessory for any occasion, this pendant effortlessly complements any outfit, making it a versatile addition to your collection. Experience the captivating beauty of the Tiger Eye Pendant today and embrace the distinctive qualities that set it apart from the rest.
Introducing the mesmerizing Tiger Eye Pendant, a true masterpiece carved in an oval shape and held delicately in a bed of exquisite 92.5 sterling silver. Prepare to embark on a captivating journey where beauty meets elegance, making a resounding statement with every sway. Crafted with meticulous attention to detail, this timeless pendant encapsulates the enchanting allure of tiger eye within its very core. Admire the intricate patterns that dance beneath the surface, showcasing the stone's uncanny resemblance to the mesmerizing eyes of a tiger. As the light catches the pendant, be prepared to be transfixed by the iridescent rays that playfully blend earthy browns and golden hues, creating an ethereal glow that radiates from within. Embracing both artistry and luxury, this pendant encapsulates the essence of versatility. Whether worn with a casual ensemble or paired with a sophisticated ensemble, it effortlessly transcends any occasion. Elevate your style with a touch of bold elegance, as this captivating pendant hangs gracefully from an adjustable chain, ensuring a perfect fit for every wearer. The Tiger Eye Pendant not only graces your neckline with its beauty but also imparts numerous benefits to its fortunate owner. Allow yourself to be enveloped in the stone's protective energy, shielding you from negative energies while promoting harmony and balance in your life. Feel a surge of courage radiate through you as the tiger eye strengthens your willpower and enhances your self-confidence. Embrace the nurturing warmth of this stone, as it sets the stage for personal growth and transformation. Value comes in many forms, and this Tiger Eye Pendant truly delivers. It serves as a timeless investment, as both the sterling silver setting and the tiger eye stone are crafted to stand the test of time. This pendant becomes an heirloom, passed down through generations, carrying with it the legacy of style and grace. Furthermore, with its unique ability to complement any skin tone and effortlessly enhance any outfit, it transcends trends, ensuring that you always feel fashionable and elegant. Indulge in the exquisite beauty of the Tiger Eye Pendant, where nature's artistic prowess meets sterling silver craftsmanship. It adorns you with a touch of wild elegance, empowering you with its protective energy, and becoming an eternal symbol of your style and sophistication. Let this captivating pendant whisper tales of adventure and allure as you journey through life, embracing the transformative power it possesses. Dare to adorn yourself with the tiger's eye and step into a world where timeless beauty reigns supreme.
Approximate stone with silver: 32 mm x 23 mm
Total length about 45 mm
Specification:
Stunning Tiger Eye Pendant in 92.5 Sterling Silver – Exquisite Oval Jewelry Piece
| | |
| --- | --- |
| Silver chain option | pendant only, 16 inch chain, 18 inch chain, 20inch chain, 22inch chain |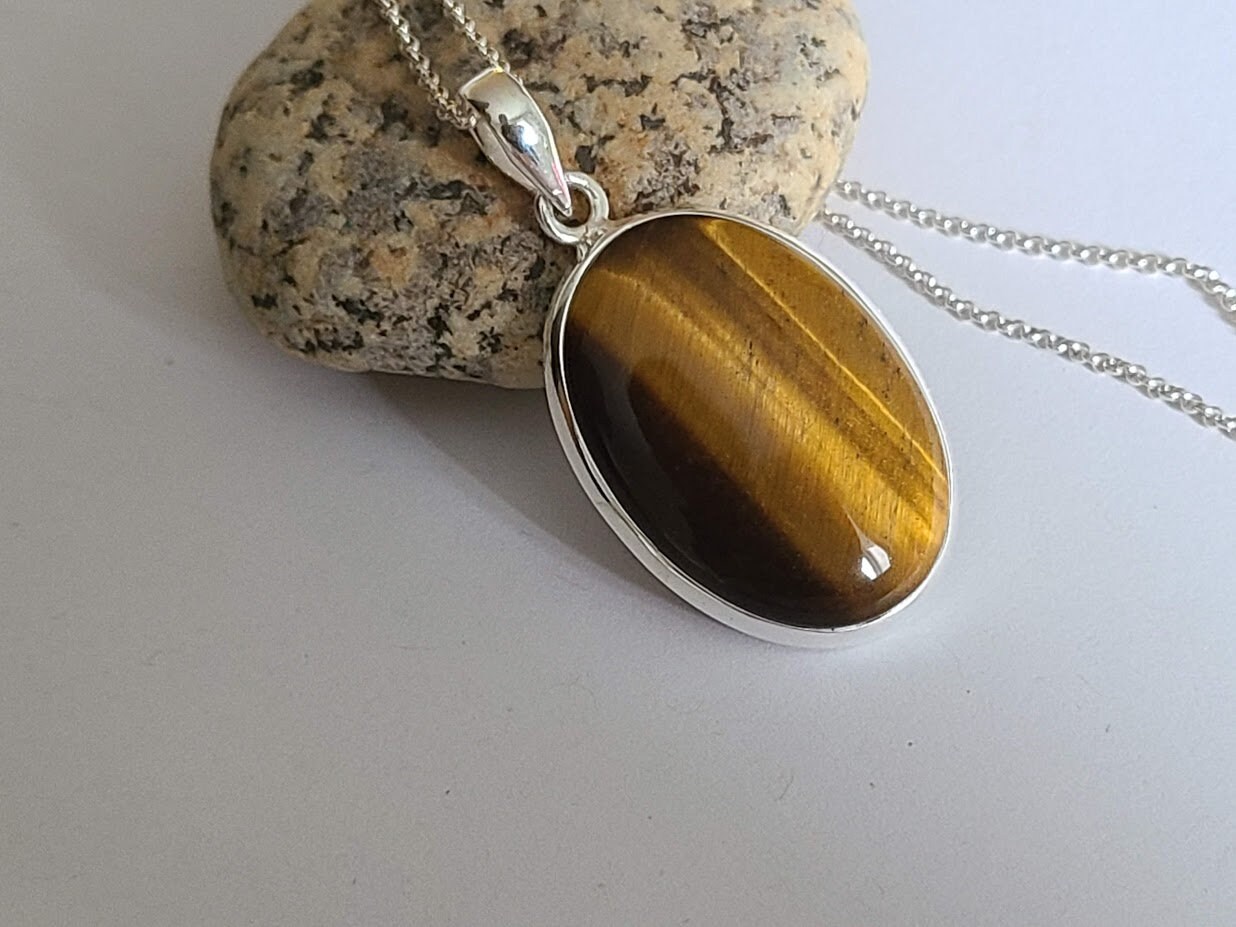 Stunning Tiger Eye Pendant in 92.5 Sterling Silver – Exquisite Oval Jewelry Piece