Premium Turquoise Bracelet Set in 92.5% Sterling Silver – Exquisite Craftsmanship & Timeless Beauty
Introducing our captivating Turquoise bracelet set in 92.5% Sterling Silver, designed to elevate your style and leave a lasting impression. Crafted with exquisite attention to detail, this stunning piece boasts the perfect fusion of turquoise and sterling silver, creating a harmonious balance that will undoubtedly turn heads. With its high-quality materials, this bracelet not only radiates elegance but also offers durability and longevity. Its distinctive features include intricate silverwork, enhancing the natural beauty of the turquoise stone. Whether for a special occasion or everyday wear, this bracelet promises to elevate any outfit effortlessly. Discover the perfect blend of style, quality, and sophistication with our Turquoise bracelet set in 92.5% Sterling Silver.
Introducing the magnificent and enchanting Turquoise bracelet, a true masterpiece of elegance and sophistication. Crafted with utmost precision and devotion, this remarkable piece of jewelry is set in 92.5% Sterling Silver, ensuring both durability and timeless beauty. Unleash your inner diva and make a bold fashion statement with this exquisitely designed Turquoise bracelet. Its mesmerizing hue will instantly captivate your senses, evoking a sense of tranquility and serenity. Allow yourself to be enchanted by the calming aura of this stunning gemstone. Featuring a seamless fusion of artistry and craftsmanship, this bracelet boasts a unique blend of old-world charm and contemporary style. The delicate Sterling Silver setting showcases the brilliance of the Turquoise, enhancing its natural allure and creating an elegant aura around your wrist. Our Turquoise bracelet is not just a mere accessory; it is a symbol of self-expression and individuality. Each bead is thoughtfully handpicked, ensuring a harmonious blend of colors and patterns, making every piece truly one-of-a-kind. Embrace the uniqueness of this jewelry and let it reflect your own distinctive personality. As you adorn your wrist with this captivating bracelet, you will experience the transformative power of Turquoise. This enchanting gemstone is believed to bring good fortune, safeguard against negative energies, and promote balance and emotional well-being. Feel the positive energy radiating from the Turquoise beads, as they uplift your spirit and infuse your life with positivity. Indulge in the luxury of this Turquoise bracelet, and witness the value it brings to your ensemble. Whether you're attending a glamorous soirée or adding a touch of sophistication to your everyday attire, this exquisite piece will effortlessly elevate your style quotient. Be prepared to turn heads and attract admiration wherever you go. Embrace the allure of the Turquoise bracelet and let its beauty transport you to a world of elegance and grace. Immerse yourself in the rich history of this captivating gemstone and the tales it holds within. Embark on a journey of self-discovery and self-expression, guided by the timeless beauty of this exquisite accessory. Unleash the fashionista within, and let this Turquoise bracelet set in 92.5% Sterling Silver be your ultimate style companion. Revel in its unique features, reap the benefits it brings to your wellbeing, and embrace the remarkable value it brings to your life. Adorning your wrist with this magnificence will not only accentuate your beauty but also serve as a constant reminder of the extraordinary person you are.
dimensions: Length 215.9mm X Width 5mm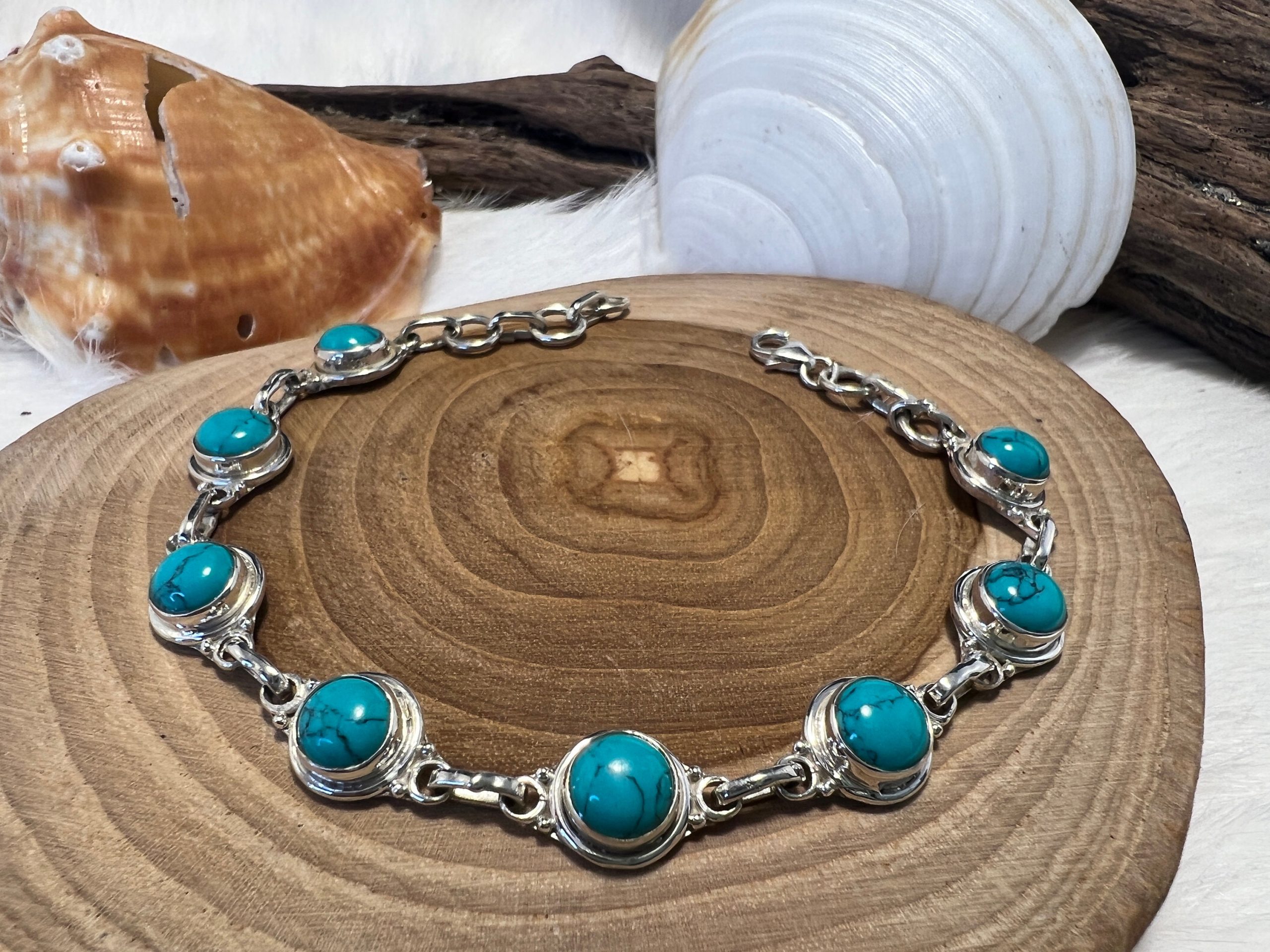 Premium Turquoise Bracelet Set in 92.5% Sterling Silver – Exquisite Craftsmanship & Timeless Beauty