Turquoise teardrop pendant, unique and handmade set in 92.5 sterling silver
This beautiful turquoise pendant is handcrafted with 92.5 sterling silver for a unique and eye-catching look. The teardrop-shaped stone measures 13 mm x 19 mm and the total length is about 29 mm. The pendant is available on its own or with an optional choice of sterling silver chain in 16, 18, 20 or 22 inch lengths.
Turquoise is a stone that has been cherished for thousands of years for its healing and protective properties. It has been used as a symbol of wisdom and immortality, and is thought to bring peace to the home.
This pendant is the perfect way to add a touch of class and elegance to any outfit.
Dimension of stone with silver about 13 mm X 19 mm
Total length about 29 mm
4.31 grams
Code 100
Specification:
Turquoise teardrop pendant, unique and handmade set in 92.5 sterling silver
| | |
| --- | --- |
| pendant only | pendant only, 16 inch chain, 18 inch chain, 20 inch chain, 22 inch chain |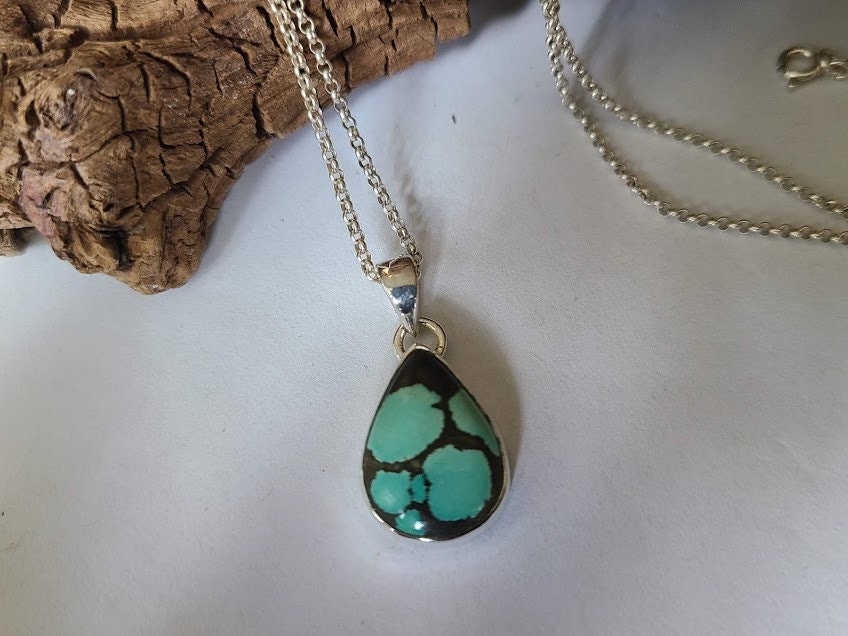 Turquoise teardrop pendant, unique and handmade set in 92.5 sterling silver