Stunning Turquoise Pendants, Crafted in 92.5 Sterling Silver – Enhance Your Style Today!
Introducing our exquisite WordPress product: Turquoise pendants, delicately crafted with 92.5 sterling silver. These captivating pieces epitomize elegance and uniqueness, while showcasing remarkable features that surpass all expectations. Adorned with the mesmerizing turquoise stone, these pendants not only accentuate any outfit but also symbolize wisdom, protection, and positivity. Handcrafted to perfection, the sterling silver setting ensures durability and unparalleled quality, offering both style and substance. With our Turquoise pendants, embrace the allure of the extraordinary and indulge in a timeless statement of beauty.
Introducing our exquisite collection of turquoise pendants, meticulously crafted and set in 92.5 sterling silver. Dive into a world of unparalleled beauty and elegance, where timeless design meets the allure of precious gemstones.
Our turquoise pendants are a true masterpiece, showcasing the mesmerizing beauty of this enchanting gem. Each carefully selected stone is handcrafted with the utmost precision, ensuring its superior quality and unmatched brilliance. The vibrant turquoise, with its captivating hues ranging from deep azure to serene teal, adds a touch of mystique to any ensemble.
Not only do our turquoise pendants exude visual splendor, but they are also adorned with the finest 92.5 sterling silver. Renowned for its durability, this premium silver alloy reinforces the timeless appeal of our pendants, making them a cherished heirloom that can be passed down through generations.
Features that set our turquoise pendants apart:
Unmatched craftsmanship: Each pendant is meticulously handcrafted by skilled artisans, ensuring every intricate detail is flawlessly executed.
Exquisite turquoise: Our gemstones are carefully sourced, guaranteeing only the finest quality turquoise, with its signature depth of color and natural patterns.
92.5 sterling silver: The sterling silver setting complements the turquoise's allure, creating a harmonious union of elegance and sophistication.
Versatile designs: Our collection features a diverse array of pendant styles, ranging from classic to modern, ensuring there's a perfect piece to suit every individual's taste and style.
Exceptional value: With our turquoise pendants, you're investing in an exquisite piece of jewelry that transcends trends, making it a timeless addition to your collection.
Indulge yourself or surprise a loved one with the extraordinary beauty of our turquoise pendants. Whether worn as a statement piece for special occasions or as an everyday accessory, these pendants exude a captivating charm that effortlessly elevates any outfit.
Experience the magnificence of turquoise combined with the enduring allure of sterling silver. Our turquoise pendants are more than just jewelry; they are an embodiment of elegance, sophistication, and everlasting beauty.
Specification:
Stunning Turquoise Pendants, Crafted in 92.5 Sterling Silver – Enhance Your Style Today!
| | |
| --- | --- |
| pendant only | pendant only, 16 inch chain, 18 inch chain, 20 inch chain, 22 inch chain |
| PENDANT CHOICE | SQUARE, RECTANGULAR |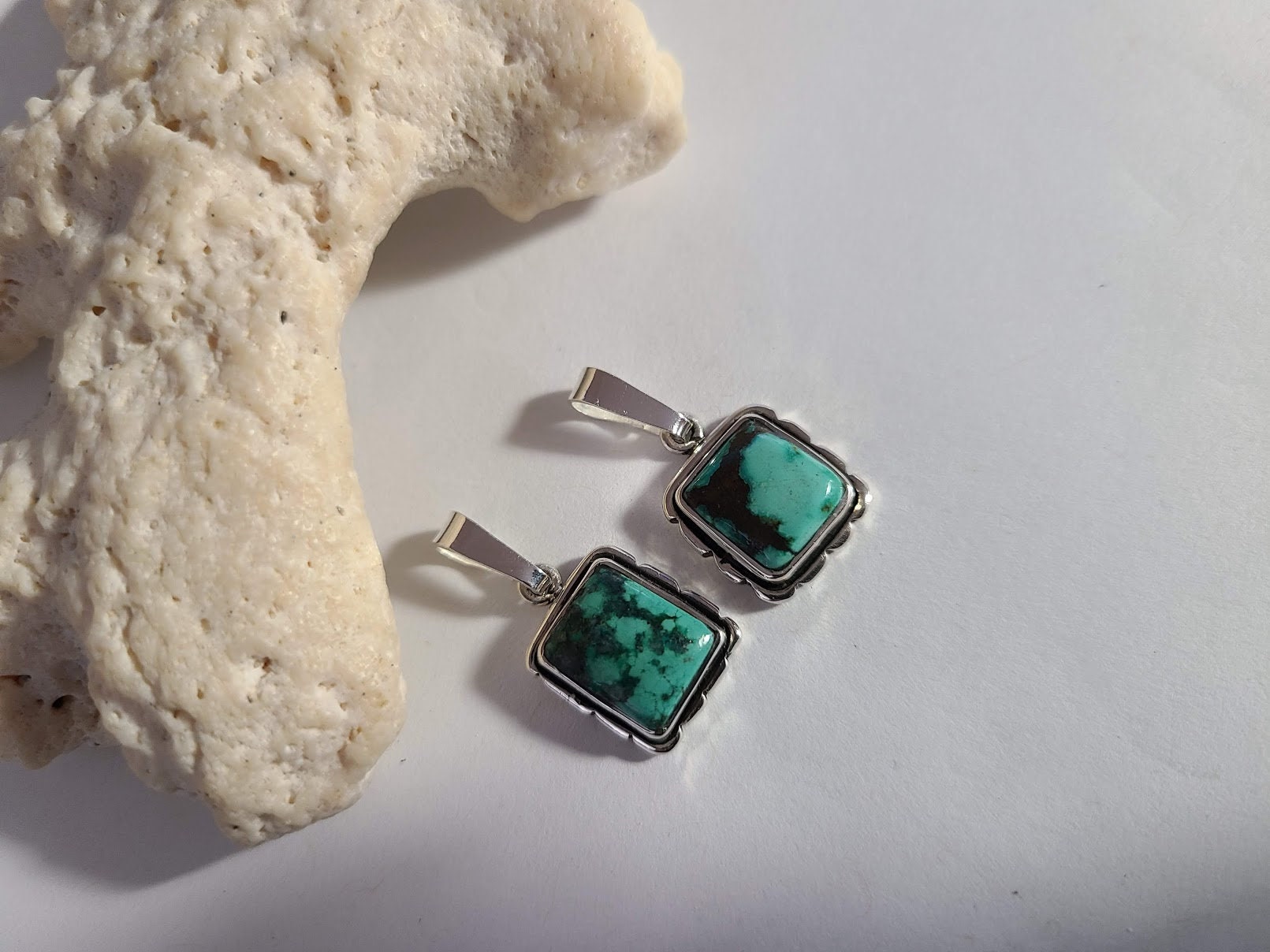 Stunning Turquoise Pendants, Crafted in 92.5 Sterling Silver – Enhance Your Style Today!