Handmade Turquoise Ring in 92.5 Sterling Silver: Unique and Captivating Jewelry Piece
The exquisite Turquoise ring in our WordPress product collection is a true masterpiece, meticulously handcrafted and set in 92.5 sterling silver. With its stunning design and one-of-a-kind charm, this unique ring will effortlessly enhance your style and make a lasting impression. The brilliant turquoise stone adds a vibrant touch to any outfit, while the high-quality sterling silver ensures durability and elegance. Stand out from the crowd with this captivating piece that showcases both contemporary fashion and timeless beauty.
Introducing our exquisite Turquoise Ring, a true masterpiece of craftsmanship! This unique handmade ring is expertly set in 92.5 sterling silver, elevating elegance to an extraordinary level. Prepare to be enamored by the enchanting allure of this captivating piece! Crafted with meticulous attention to detail, this Turquoise Ring is a true testament to the artistry of our skilled artisans. Each ring is lovingly handcrafted, ensuring that no two pieces are exactly alike, making it a truly exclusive and one-of-a-kind treasure to adorn your finger. The focal point of this enchanting ring is the stunning Turquoise gemstone. Known for its vibrant blue-green hue, the Turquoise brings a sense of tranquility and serenity to its wearer. Its opulent colors are beautifully encapsulated by the 92.5 sterling silver setting, creating a harmonious union between earthy elegance and contemporary sophistication. With its delicately crafted band, this Turquoise Ring effortlessly wraps around your finger, providing a comfortable fit that can be worn throughout the day. The attention to detail extends to the seamless integration of the Turquoise gemstone, securely nestled within the sterling silver setting, ensuring durability without compromising on style. Bold yet understated, this Turquoise Ring complements any style, effortlessly transitioning from day to night. Its timeless appeal makes it a versatile accessory that can be worn with casual ensembles for a bohemian flair or as a statement piece to accentuate your formal attire. Experience the transformative power of this Turquoise Ring as it adds a touch of elegance and sophistication to your every gesture. Whether you're attending a special occasion or simply want to elevate your everyday look, this extraordinary piece promises to become your go-to accessory, enhancing your personal style and making a lasting impression. Indulge in the captivating beauty of our Turquoise Ring, and discover the immense value it brings to your jewelry collection. Its unique handmade design, coupled with the intrinsic allure of the Turquoise gemstone and the enduring quality of 92.5 sterling silver, ensures not only a fashion-forward accessory but also a treasured heirloom that can be passed down through generations. Embrace the ethereal charm of the Turquoise Ring and experience the perfect blend of artistry, elegance, and timeless sophistication. It's time to make a statement with a piece that embodies individuality, grace, and the true essence of beauty.
Dimensions with silver about 17 X 12 mm
Weight: 4 grams
Specification:
Handmade Turquoise Ring in 92.5 Sterling Silver: Unique and Captivating Jewelry Piece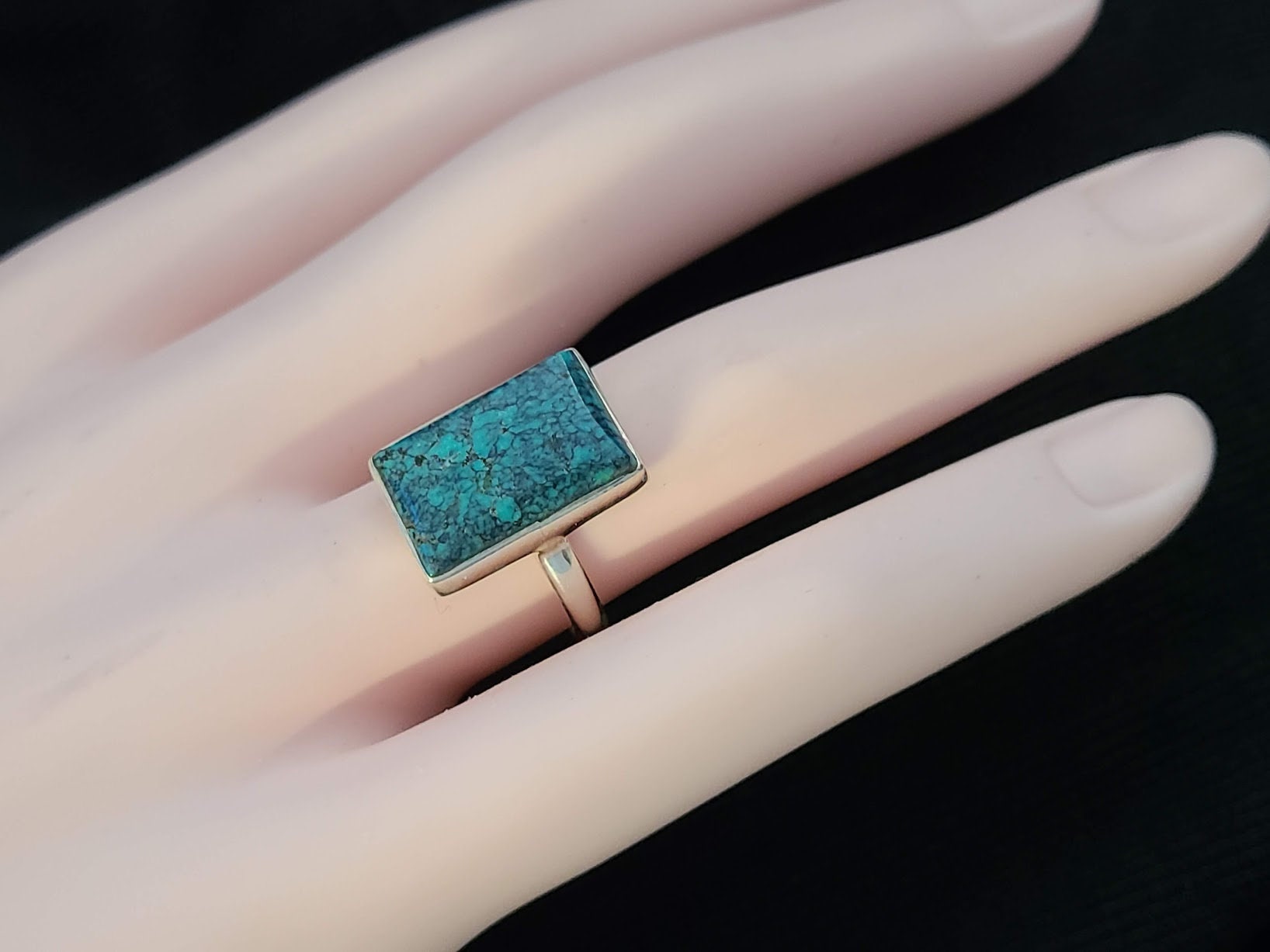 Handmade Turquoise Ring in 92.5 Sterling Silver: Unique and Captivating Jewelry Piece